Having the kids home for winter vacation is always difficult.  They always seem to get bored, no matter how many toys, crafts, or games they have.  Cold, rainy days make it even harder because they can't go play outside.  So today I kept them busy for a little bit with some fun Rice Krispie Treats we shaped out of a Jello Jigglers mold.  They came out really cute, so I thought I'd share them with you.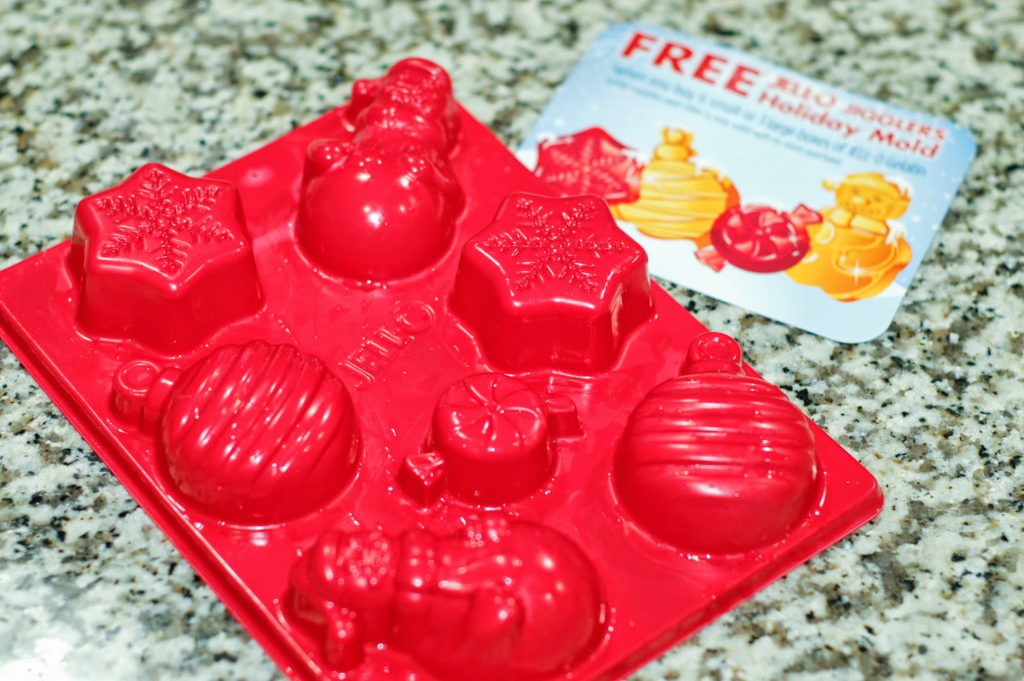 I got this mold free at the supermarket and hadn't used it yet.  I kept meaning to make Jello, but kept forgetting.  I had some Rice Krispie cereal left in the pantry that I wanted to use up, so that seemed like a more interesting choice for this mold.
I went through the pantry for icing and candy to decorate the treats.  I had cookie icing and regular icing.  Cookie icing is great for glueing on candy because it hardens.  The other icing will get stiff, but not harden as much. It does make for pretty decorations though, especially the glitter one.
Besides sprinkles, I also pulled out some fruit roll-ups, Air Heads candy strips, and regular and mini M&Ms.
After I mixed the Rice Krispies with the melted butter and marshmallows, I just took scoops and place them in the mold cavities and pressed them in to form the shape.  By the time I filled in the last cavity, I was able to flip the mold over and the shapes slid out thanks to the Baker's Joy non-stick spray I used.  So I just kept refilling the mold and making more shapes.  I was able to fill the mold three times before running out of the Rice Krispie mix.  I placed the molded treats in the fridge to firm up a bit more before decorating them.
Here's where the kids had fun.  My daughter usually takes her time decorating, while my son just likes to put as many candies as possible like he did for our gingerbread cookies a few weeks ago.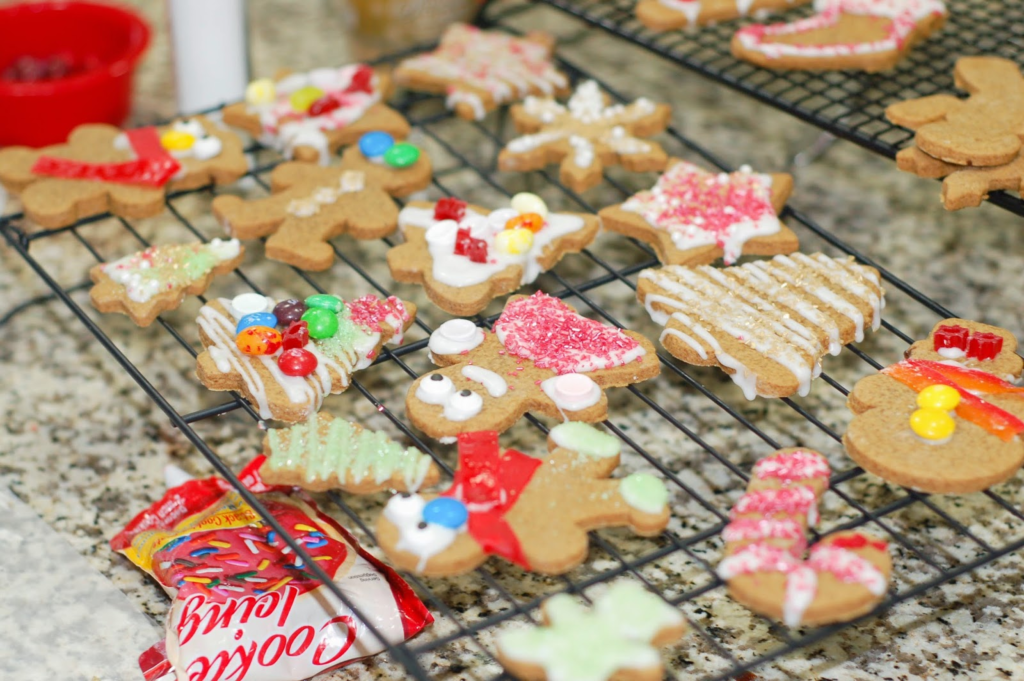 We didn't end up using all the candies and sprinkles I pulled out, but the Air Heads made for some nice scarves on the snowmen.  The fruit roll ups I used to wrap around the tops of the ornaments and for the snowman noses.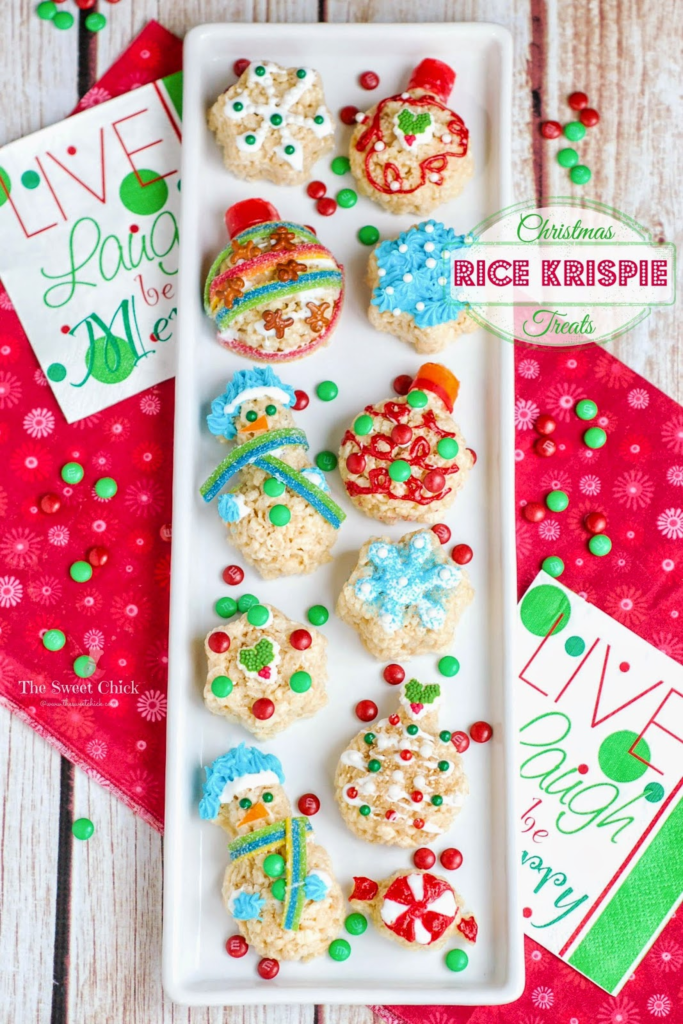 My kids enjoyed themselves and it kept them from fighting and driving me nuts for about an hour.  And the treats came out reasonably good looking, so it was a success in my book.  What are your kids doing for winter break?
Christmas Rice Krispie Treats
by The Sweet Chick
Prep Time: 20-30 minutes
Cook Time: 5 minutes
Keywords: stove top dessert snack rice krispies marshmallows cookie icing candy Christmas rice krispie treats American winter
Ingredients (21 treats)
For the treats
3 tablespoons butter
3 cups mini marshmallows
4 cups Rice Krispie cereal
For the toppings
mini M&Ms
sprinkles
fruit roll ups
Air Heads Extremes
Betty Crocker cookie icing
Cake Mate glitter icing/ bakery icing
Additional items
Jello Jigglers holiday mold
Instructions
For the treats
In a large sauce pan, melt butter and marshmallows over low heat. Stir until completely melted.
Remove from heat and add Rice Krispie cereal. Mix until fully incorporated.
Spray Jello mold with non-stick spray.
Once the cereal mixture has cooled slightly, and can be touched, place spoonfuls of mixture into the mold cavities.
Press the mixture in with your hands to form the shapes, filling the cavities flush.
Once all cavities are filled, flip the mold over and the treats should fall out by themselves. If not, give the mold a slight tap.
Place finished treats aside and fill the mold again.
Once all mixture is used, place finished treats in an airtight container and place in the fridge for about an hour or overnight.
For the toppings
Once the treats have set, let the decorating begin. Use your imagination.
Use the cookie icing as the glue to hold candies in place and also as a decoration. The fruit roll ups and Air Heads work great as scarves, just cut to fit.
The Cake Mate icing bags come with different tips (sold separately), so you can experiment. I used the star tip to make the snowman hat and mittens.
It's all about having fun. Enjoy!
Notes
The treats can be made ahead of time and decorated another day.
Finished treats can be kept in an airtight container at room temperature or in the fridge for longer storage.