Been busy around here with graduations and birthdays.  Here is a cute treat I made for my daughter's class to celebrate her birthday this month.  It's quick, easy, and no bake.  Perfect for a summer birthday.  And who doesn't like Rice Krispie treats. 
I bought this cute set of cupcake cookie cutters as Walmart, fully intending to bake up some cookies, but I really didn't want to turn on the oven and heat up the whole kitchen.  So I came up with this idea.
You just make a batch of Rice Krispie treats, cut out the cupcake shape and decorate with candy melt.  I put mine on popsicle sticks for some extra fun.
I  used Wilton #1 decorating tip to outline and fill in the cupcake design. 
I really like how they came out and the kids loved them too.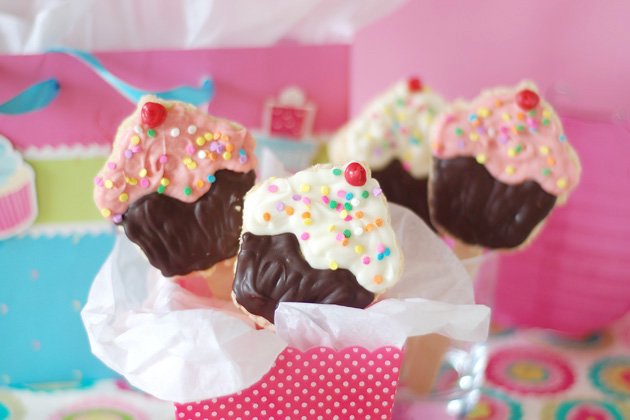 Rice Krispie Cupcake Pops
by The Sweet Chick
Prep Time: 20-30 minutes
Cook Time: 10 minutes
Keywords: no bake dessert rice krispies birthday Rice Krispie Treats
Ingredients (about 12 cupcake pops)
For Rice Krispie Treats
3 tablespoons butter or margarine
1 package (10 oz.) regular marshmallows or 4 cups of mini marshmallows
6 cups Rice Krispies cereal
For Decorating
2 cups white or pink candy melt wafers
2 cups light or dark chocolate candy melt wafers
1 cup red candy melt wafers
sprinkles
Also needed
cupcake cookie cutter
disposable cake/candy decorating bags
Wilton cake decorating tip #1 (optional)
popsicle sticks
Instructions
1. Melt butter over low heat in a large pot. Add marshmallows and stir until completely melted. Remove from heat.
2. Add Rice Krispies cereal. Stir until cereal is all coated with the marshmallow/butter.
3. Using a buttered spatula or wax paper, spread the Rice Krispies mixture onto a wax paper on a flat surface or in a greased jelly roll pan till about a half inch thick.
4. Use your cookie cutter to cut out shapes. You should be able to to yield 12 cupcake shapes. Use every last bit of mixture. Just keep compressing it together to cut out your shapes.
5. Place completed cupcakes into the fridge for 15 minutes to firm up before decorating.
6. Meanwhile melt the white/pink candy wafers one cup at a time in the microwave, preferably in a glass container as per instructions on package. ( I use a glass measuring cup, because it makes it easier to pour the melted candy into the decorating bags later.) Dip the popsicle sticks in the candy melt (only a small dab) and insert in the firmed up Rice Krispie cupcakes.
7. Then pour the remainder of the candy melt into a disposable decorating bags. Using a Wilton #1 cake decorating tip or cutting a very small hole in the tip of the decorating bag, outline the frosting part of the cupcake shape on the top of the Rice Krispie treat, then fill in.
8. Carefully add sprinkles to the white/pink candy melt and place cupcakes back in fridge for 5 minutes to harden the candy melt.
9. Next melt the chocolate candy melt and outline and fill in the bottom half of the cupcake design in the same fashion. While the chocolate candy melt is hardening, prepare your red candy melt and pipe on a small red circle on top of the cupcake design for the cherry.
10. You can store the treats in an air tight container for two days at room temperature or in the fridge for up to five days.