This is actually a project I did in January, but since we have just started getting snow here recently, I thought it would be appropriate.  My daughter needed to take something to school for her Discover and Share that had a winter theme.  So I thought snowmen marshmallows would be cute.  I found a recipe for homemade marshmallows at.  It looked easy, albeit perhaps messy.  But, hey, with two small kids, it's always messy here anyway.
 First I tested the recipe to make sure they would taste good and come out okay.
Homemade Marshmallows
by My Baking Addiction
Ingredients
3/4 cup water, divided
3 (.25 oz.) packages, unflavored gelatin
2/3 cup light corn syrup
2 cups white sugar
1 tbsp vanilla extract
1/4 cup cornstarch
1/4 cup confectioner's sugar
Cooking Directions
Line a 9×13 inch baking dish with plastic wrap and spray with non-stick cooking spray. Spray another piece of plastic wrap to cover the top, and set aside.
Place 1/2 cup of water in the bowl of an electric mixer fitted with the whisk attachment, and sprinkle gelatin on top of water to soak.
While gelatin is soaking, combine 1/4 cup of water, corn syrup, and sugar in a saucepan. Bring the mixture to a boil over medium heat. Boil the mixture hard for 1 minute.
Carefully pour the hot sugar mixture into the gelatin mixture and beat on high for 12 minutes with electric mixer, until the mixture is fluffy and forms stiff peaks. Add in vanilla extract and beat until just combined.
Pour the marshmallow mixture into the prepared baking dish, using a greased spatula to smooth the top. Cover the candy with the piece of prepared plastic wrap, pressing it down lightly to seal the covering to the top of the candy.
Allow the marshmallow candy to rest for 4 hours or overnight.
Mix together cornstarch and confectioner's sugar in a shallow dish. Using oiled scissors or an oiled kitchen knife, cut the marshmallow candy into strips, then into 1 inch squares. Dredge the marshmallows lightly in the cornstarch mixture and store in an airtight container.   
I did use clear vanilla extract as she suggested to keep the marshmallows pure white.  Let me just say one thing though, the smell of the hot corn syrup mixture combined with the gelatin as it is being mixed is very off putting.  It smelled like manure in my kitchen and I was very afraid of what these marshmallows would taste like, but have no fear, the smell does go away and does not affect the taste. 
The first batch I made, I just cut them into squares.  Okay, very large squares.  Here is my assistant dredging them in cornstarch and confectioner's sugar.
And here she is taste testing for me.  She gave them her seal of approval.  They really were quite good.  Much better than the store bought ones.  They are lighter and fluffier.
The real test for me, was to have some with a cup of hot cocoa.  Yep, they were delicious in my book too.  So then I knew I would make more and shape them into snowman for the kids.  At first I was going to cut the marshmallows into circles and stack them up on a candy stick to make the snowmen, but when I went to get my circle cookie cutter, I found a snowman cookie cutter and went a different route.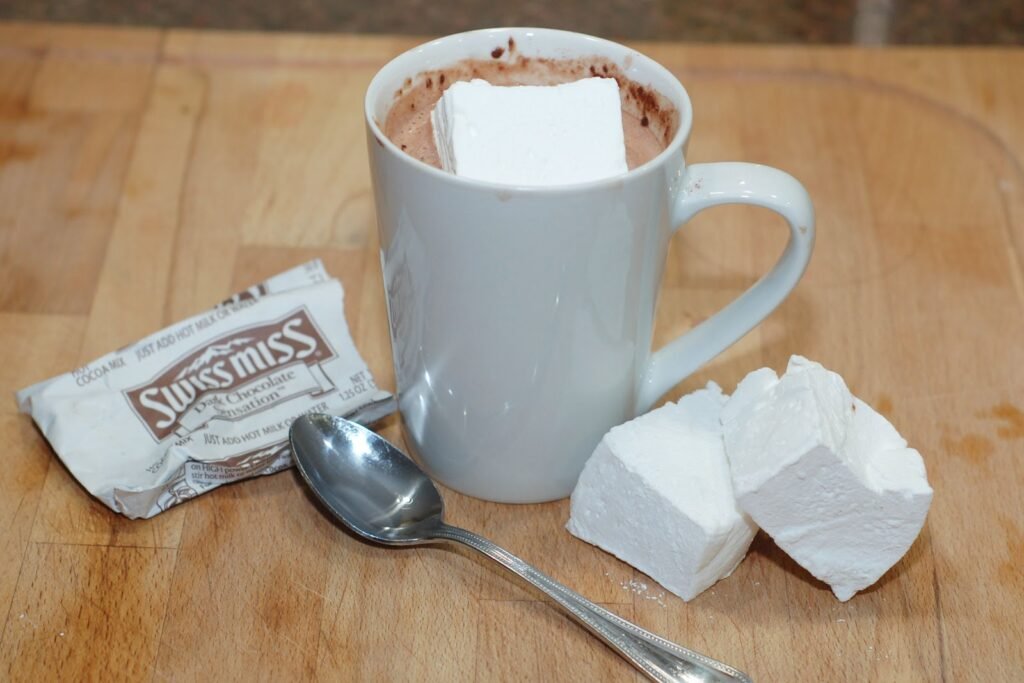 I then when to the store to see what kind of candy I could find to decorate with.  I found mini M&M's for the buttons, some sour candy strips for the scarves, and orange slices for the nose.  I had some black glitter gel for the hat, eyes, and mouth and I used cookie icing to glue things together. 
I cut small triangles out of the orange slices to make the carrot nose.
I cut the sour candy strips in two lengthwise for the scarves and even fringed the ends by making small slits with a sharp knife.
Here is the completed project.  The black icing didn't spread as well as I thought, so I just ended up using the black gel for the hat, eyes, and mouth.  I think they came out pretty well.
My daughter was excited to see them.  I made girl ones and boy ones for her classmates.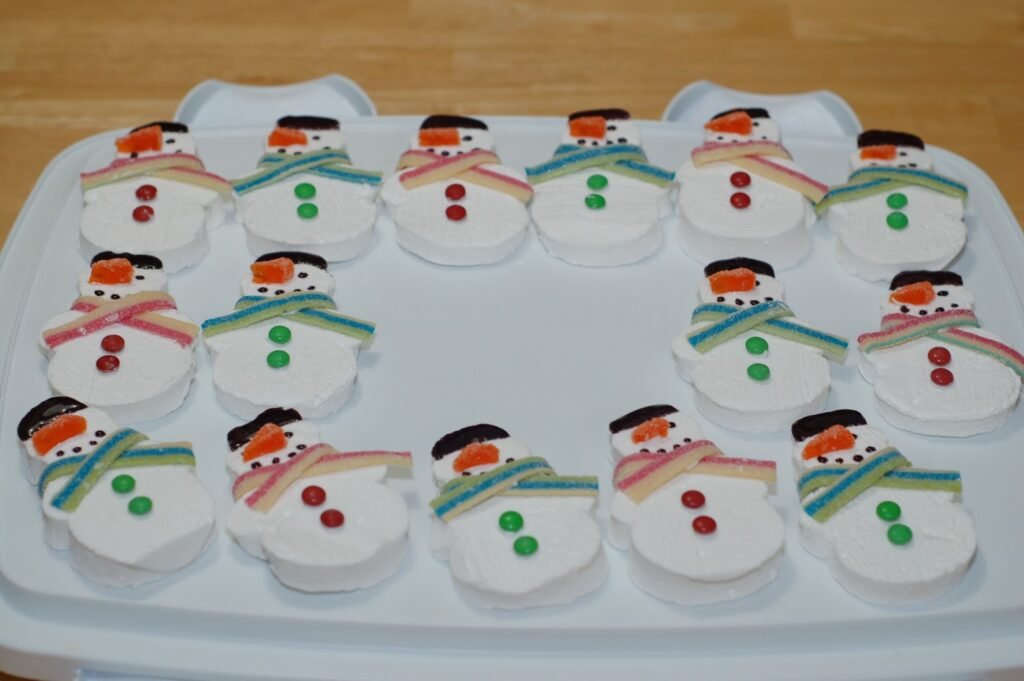 The kids really did like them and they tasted good.  I will bookmark this recipe to do again next year.