Well, the weather looks a little more promising for the weekend. The Weather Channel says it's going to be 70°F on Saturday. I'll take that. Although it is supposed to rain. Oh well, nothing is perfect. It will give me time to keep emptying out my pantry from holiday overflow. I still had a little bit of sugar cookie mix left over from my Mini Sugar Cookie Donuts, so I made some more Valentine inspired treats. Speaking of Valentine's, if you haven't checked out the Target $1 bins, you have to go. They have so many cute things, like this mini chalkboard and red with white hearts washi tape.
Besides buying sugar cookie mix, I had also found these Sugar Cookie marshmallows by Jet-Puffed. They always have the best flavors!
They are shaped like snowflakes and are sugar coated. They are sweeter than regular marshmallows.
You can never have too much sugar cookie. I mixed in some dry sugar cookie mix to the marshmallows and butter.
I decided to try something different this time. Instead of making the treats and then cutting out shapes with a cookie cutter, I greased up some of my Wilton's pans. I had a regular Whoopie Pie pan and a Heart Shaped Whoopie Pie pan. I just used my large scoop to dump the Rice Krispie mixture into the cavities, then used a piece of wax paper to press the mixture into the shapes. Then I let them set as normal. It actually worked out very well, the treats were easy to remove from the pans and kept their shape.
For decorating, I wanted a soft topping. I had some canned frosting that I just added some food coloring to. You can make your own sugar cookie frosting or use some premade sugar cookie frosting if you like. It's all about fun. Kids would love this project.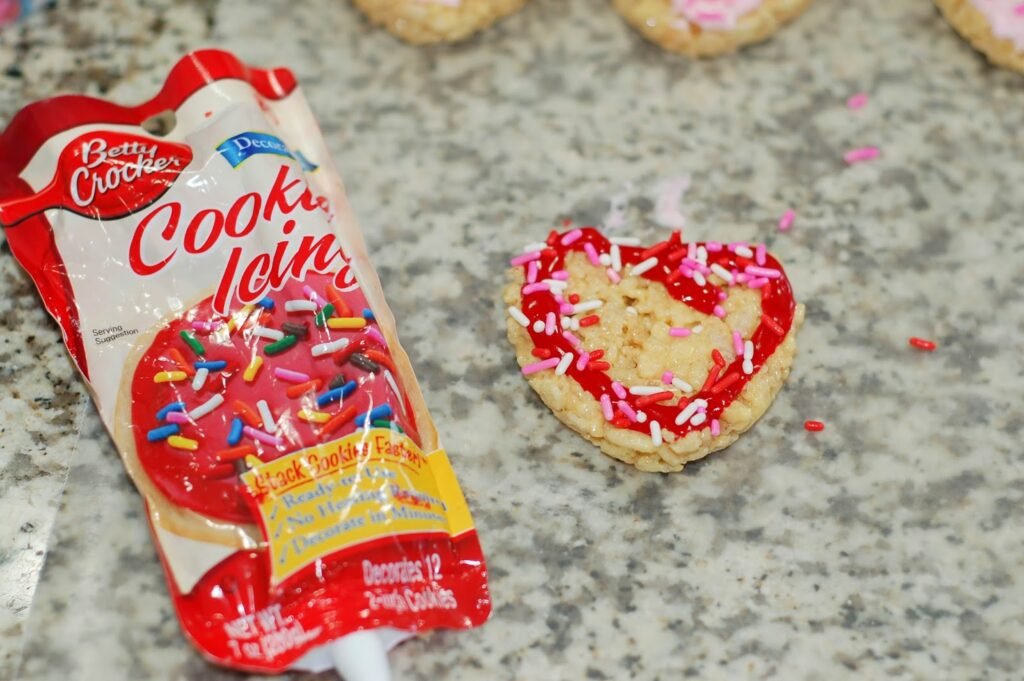 I did find some left over cookie icing that I used on a few of the heart shaped treats. The sprinkles I found last year in the Target $1 bins. They have some cute ones this year too. Those $1 bins always suck up all my money. There are just too many good deals and cute stuff. You can check out my Instagram feed to see the other things I found.
As you can see, I was experimenting with different techniques. I still like the frosted ones the best.
Here are the heart shaped ones. These would be perfect for a Valentine's party at school.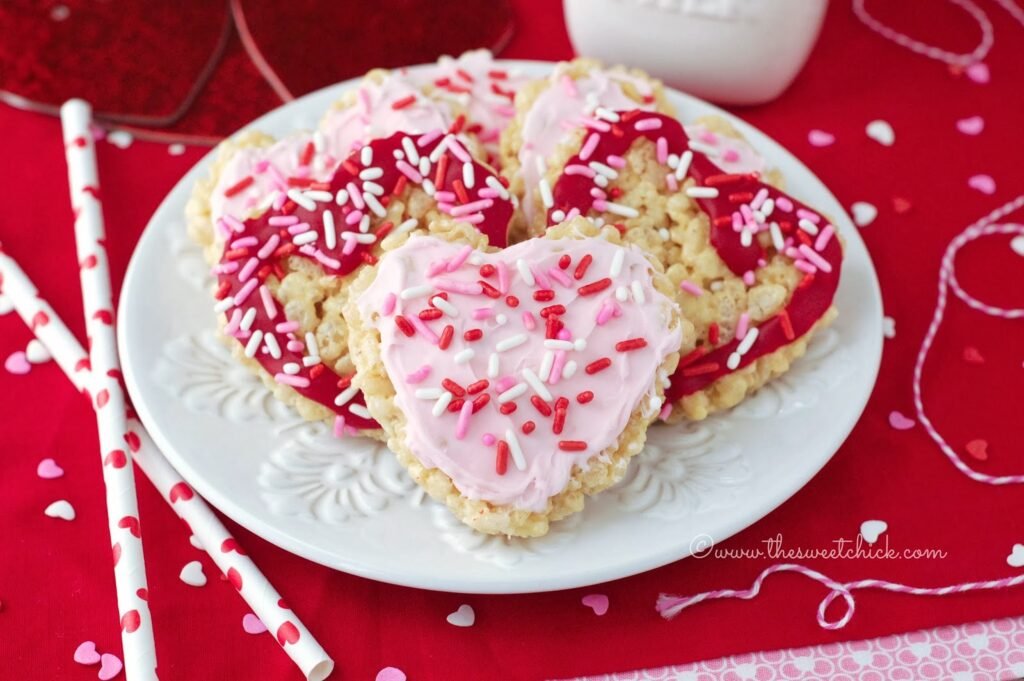 The Rice Krispie treats came out yummy, but did not have a very heavy sugar cookie taste. They were sweeter than regular Rice Krispies though and with the addition of the frosting, they were plenty sweet.
Sugar Cookie Rice Krispie Treats
by The Sweet Chick
Prep Time: 15-20 minutes
Cook Time: 5 minutes
Keywords: no bake dessert snack rice krispies sugar cookie mix sugar cookie marshmallows rice krispie treats American winter
Ingredients (24 servings)
For the treats
3 tablespoons butter
1 package (8 oz.) Jet Puffed Sugar Cookie Marshmallows
1/3 cup Betty Crocker Sugar Cookie mix (dry)
5 cups Rice Krispie cereal
For the toppings
1 container (12 oz.) Betty Crocker Frosting (fluffy white or vanilla)
1-2 drop red food coloring
sprinkles
Instructions
For the treats
In a large sauce pan, melt butter and marshmallows over low heat. Stir until completely melted.
Remove from heat and add sugar cookie mix. Stir until mixture is smooth.
Next add Rice Krispies and stir until completely blended.
With a large scoop, place mixture by scoopful into each cavity of two greased whoopie pie pans (or 9 x 13 pan) and spread evenly with a piece of greased waxed paper to form the shape of the cavity.
Place in fridge to cool and set.
When set, carefully remove each treat from the whoopie pie pan.
For the toppings
Empty frosting into a small bowl and add 1-2 drops of red food coloring to achieve desired colored. Mix until all blended.
With a spatula frost each shaped treat and add sprinkles.
This post may be shared at these fabulous link parties.