I feel like I've fallen out of grace. Your good graces, at least. You see, I'd prepared a whole bunch of posts that I was planning on featuring during my time in California, and then I went and had such a flippin' busy time that almost three weeks went by with hardly a peep. In fact, just about the only thing I did online was add heavily to my secret wedding board on Pinterest, secret because I don't want to embarrass myself by unleashing the full extent of my wedding mania on you all.
Speaking of which, how the hell am I going to pull off a wedding this year? Last week, I caught a whiff of what the planning process was going to be like: an uphill battle, against the strictures of the industry, the expectations of parents and future in-laws, my own indecision. Too many ideas (and not only my own) and too short on time and money, that is my plight. Don't worry, I won't bombard you with the wedding planning details as the year goes on, but I just need to lean on a figurative shoulder for a moment and take a deep breath.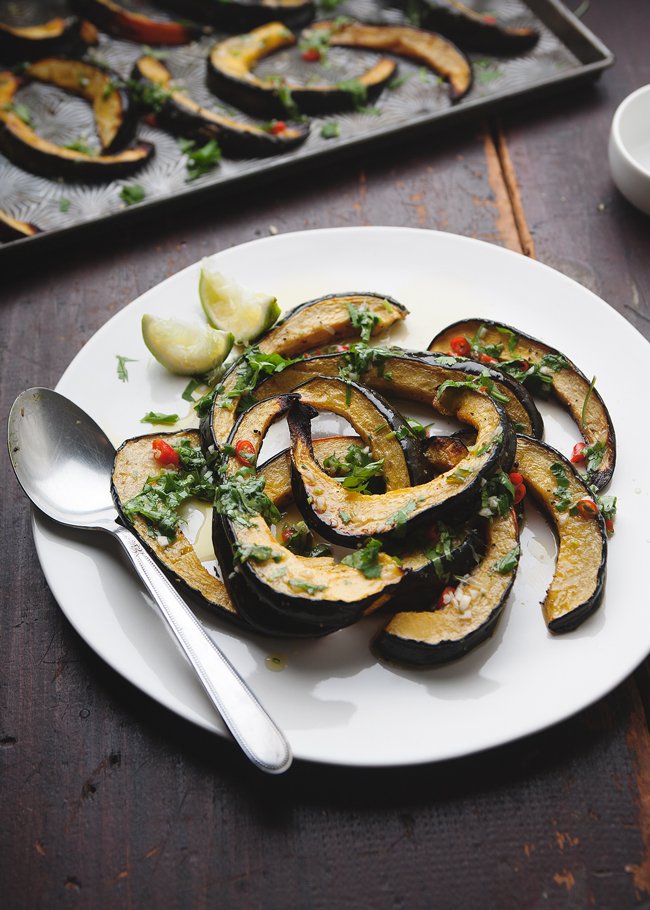 Alright then.
I made this recipe about a month ago, on one of the rare occasions in which I snapped out of my 'anything goes during the holiday season' mentality and decided to try a healthy recipe. Is acorn squash even still in season? (It is.) I guess it's just as pertinent now as it was then.
Acorn squash has a wonderful heft to it, making it a satisfying substitute for meat, but I find it kind of heavy. I tend to fall for anything with lime juice and chile peppers, and figured that in this case, they would lighten the squash considerably. They did.
I suspect the same vinaigrette would taste great on just about anything. It's tangy and bright, really perfect this drab time of year when a good kick in the butt is exactly what a person needs. (And I don't mean intensive cycling classes.)
ROASTED ACORN SQUASH WITH CHILE VINAIGRETTE
Adapted from Gourmet
Serves 4
Ingredients:
2 (1 1/2- to 1 3/4-lb) acorn squash
1/2 teaspoon black pepper
1 1/2 tsp salt
5 Tbsp olive oil
2 garlic cloves
3 Tbsp fresh lime juice, or to taste
3 to 4 tsp finely chopped fresh hot red chile, including seeds
1/4 cup chopped fresh cilantro
Directions:
Put oven racks in upper and lower thirds of oven and preheat oven to 450 degrees F. Halve squash lengthwise, then cut off and discard stem ends. Scoop out seeds and cut squash lengthwise into 3/4-inch-wide wedges.
Toss with black pepper, 1 tsp salt, and 2 Tbsp oil in a bowl, then arrange, cut sides down, in 2 large shallow baking pans. Roast squash, switching position of pans halfway through roasting, until squash is tender and undersides of wedges are golden brown, 25 to 35 minutes.
While squash roasts, mince garlic and mash to a paste with remaining 1/2 tsp salt. Transfer paste to a small bowl and whisk in lime juice, chile (to taste), cilantro, and remaining 3 Tbsp oil until combined. Transfer squash, browned sides up, to a platter and drizzle with vinaigrette.