I suspect most of us like cabbage more than we think we do. It's certainly not the most dashing of vegetables; there's something very stolid about it, insipid, blank. But, who doesn't love a crunchy coleslaw, or pungent kimchi? And who can possibly refuse a stuffed cabbage of hearty proportions? Not I.
In this case, cabbage is cooked Czech-style, with caraway seeds, dill, and wine vinegar that lend it the most heart-warming pickled cabbage taste. It's full of bacon, potatoes, and carrots, so it feels hearty and more than filling enough for a meal along with some chunky bread. In reality, it's healthy and economical and incredibly satisfying. You could even go vegetarian by not including the bacon and I think it would taste just as wonderful in a vegetable-y way. And I didn't think it needed the heavy cream, although there is that option if you want to go luxe.
I made a huge pot of it at the beginning of the week and polished it off almost singlehandedly. A second pot awaits, and I'm very excited!
Sorry about today's quick post. I just wanted to make sure to squeeze in this post before St. Patrick's Day. If you decide to forego the corned beef and cabbage, this soup makes a fine substitute.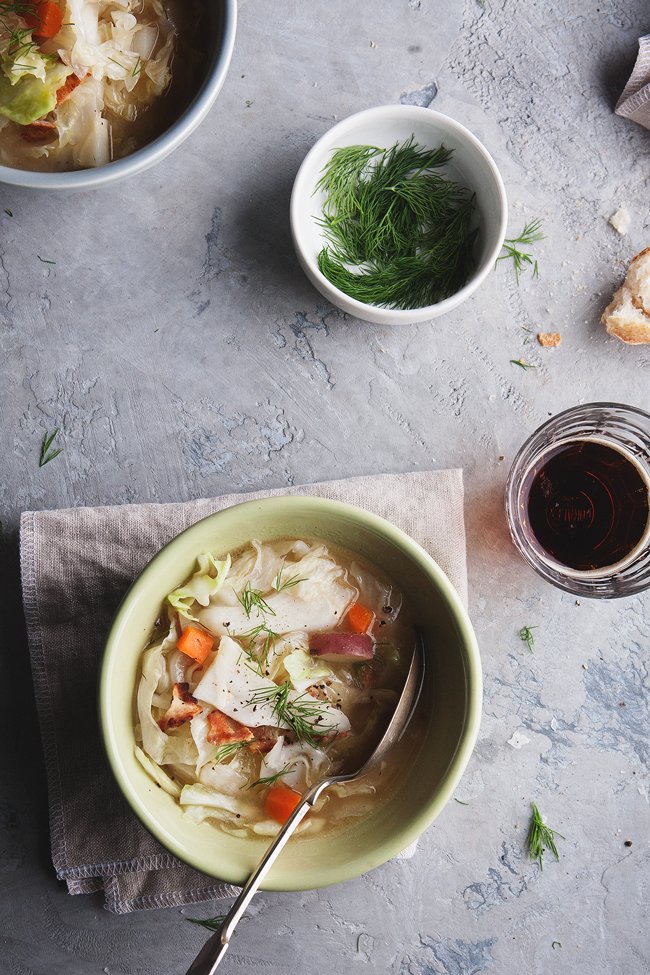 PAUL STEINDLER'S CABBAGE SOUP
Adapted from a recipe by Craig Claiborne and Pierre Franey for the NY Times, via Alexandra Cooks
Serves around 6
Who is Paul Steindler? According to this article, he made this soup for Craig and Pierre, above.
Ingredients:
6 cups shredded cabbage (half a large head)
1 cup (about 6 oz.) bacon
1 cup finely diced onions
1/4 cup flour
6 cups homemade chicken stock
1 cup finely diced carrots
1-1/2 cups finely diced potatoes
1 tsp whole caraway seeds, crushed or pulverized
2 Tbsp white wine vinegar (I used red)
1/2 tsp sugar
kosher salt and freshly ground black pepper to taste
1/2 cup heavy cream (optional)
2 Tbsp finely chopped fresh dill (or more or less to taste)
Directions:
Place cabbage in a large saucepan. Submerge the cabbage with boiling water (I boiled the water in a kettle), let it sit for a minute, then drain.
In a large pot, cook the bacon until rendered of its fat. Chop the bacon into small bits, return to pot, and add the onions. Cook on medium, stirring, until wilted. Sprinkle with flour and stir, then add broth, stirring rapidly. When the mixture begins to simmer, add the cabbage, carrots, potatoes, caraway seeds, vinegar and sugar. Add salt and pepper to taste.
Cook, stirring often, for about half an hour. At this point, you can stir in the cream, and let simmer for 5 minutes. Stir in the chopped dill, then serve. Extra dill can be added if desired.