I retreated to the Wedding Cave last week. I've decided that this is an apt name for these all-consuming panic-driven periods in which I spend basically every free moment sitting at my desk frantically planning some aspect of the big day. (It totally doesn't help that I'm both neurotic AND disorganized.) In last week's case, I sat at my desk with a big blank sheet of watercolor paper before me realizing that if we don't send out invitations soon, my nightmares will come true.
You see, I've been having stress dreams about the wedding. It's kind of laughable actually, because I always thought I'd have a knack for wedding planning. I think I've even entertained thoughts of becoming a wedding planner. HA. It turns out, I would be terrible at that job.
In my latest dream, which is what triggered last week's fever pitch, I thought that there were only three weeks left until the wedding. And I hadn't yet sent out invitations. Mini heart attack! Other realizations ensued, causing me to fall into a deeper and deeper panic: my dress still needed to be altered, I hadn't picked out bridesmaid dresses, I hadn't contacted a florist (that much at least is taken care of), etc. etc. I woke up heart POUNDING, and it took awhile to grasp that it had all been a dream.
While I hate being out of touch with everything I hold dear, this blog for example, and all the other blogs I love to read, last week did see some progress and minor achievements. We have a DJ now, for example. And a day-of coordinator! I'm so relieved. Also, our invitations are halfway to being done and I'm gathering quotes from printers. We can get our invitations printed as soon as next Tuesday, people! Yahoo! The week also wrapped up with the completion of our Catholic counseling, a cumulative nine hours of what essentially boiled down to premarital discussions. Just to be clear, I am not Catholic and Chris isn't a practicing Catholic. We decided to undergo these sessions because of our choice of officiant, a close friend of Chris's parents who is also a Franciscan monk. What's funny is that we were signed up for a special session called Inter-faith, with my religion being denoted as 'Chinese'.
To top it all off, I also started our registry, which, it turns out, I can easily get lost in and obsessive about. There are suddenly so many things we NEED, or so I believed, until I took a step back and realized I was maybe getting a little carried away with adding to our appliance collection. I immediately removed a number of items from the list and forced myself to get off Amazon, with its million and one reviews on just about anything a person could want. I'm trying to stay grounded, if you can't tell.
Actually, before I close the subject, I was hoping to get your opinion on the Le Creuset dutch oven I've been considering. I'm debating between the 5.5 qt. and 7.5 qt round sizes, or rather, I think the smaller size will work fine, but there are very compelling reasons for choosing the larger. What do you guys think? Does anyone have experience with either? And is the larger too big for two people? Three people? Four?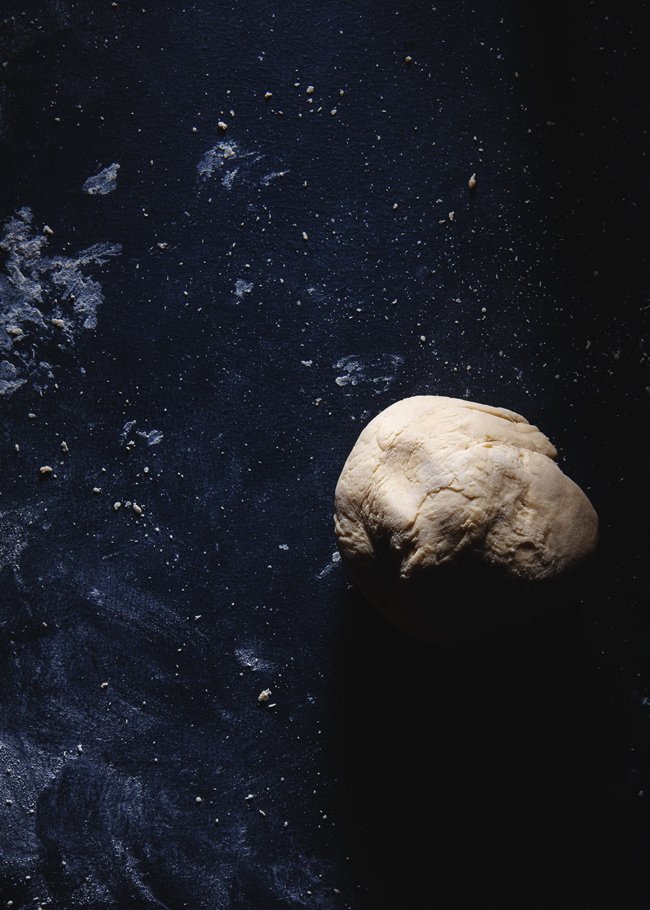 On to today's post. Do you know how transcendental homemade pasta is? If not, you really ought to try making your own soon. Some of you might be aware that I made homemade pasta for the first time ever a couple weeks ago. It was amazing! I tossed the tagliatelle with homemade pesto, roasted asparagus, and white beans, and couldn't stop crowing over how delicious it was.
But besides the finished product being incredibly fresh and tasty, the process of making the pasta is also really rewarding. Especially when you consider that its ingredients are only flour and some kind of binder. The rest of the magic comes from sheer hard labor, the interplay between the dough and your hands. You'll knead and knead, pounding and folding, take a break, and then knead some more. Later, you'll roll and roll, pressing your body into the dough, trying to get it as thin as possible, and you still won't be satisfied with how thin it is. Don't worry. Homemade pasta doesn't have to be perfect.
I decided to branch out to other shapes. My first experiment: farfalle, which means 'butterfly' in Italian. This shape needs no introduction of course, as I'm sure we've all eaten it many times before. What I love about making this pasta is how you make each piece individually, pleating it in the middle just so, pinching and squeezing, then laying it aside. The transformation is quite stunning: from unimpressive rectangles of pasta into a neat pile of bowties.
I'm now debating whether or not to add the Kitchenaid pasta roller attachment to our registry. Don't give me that look!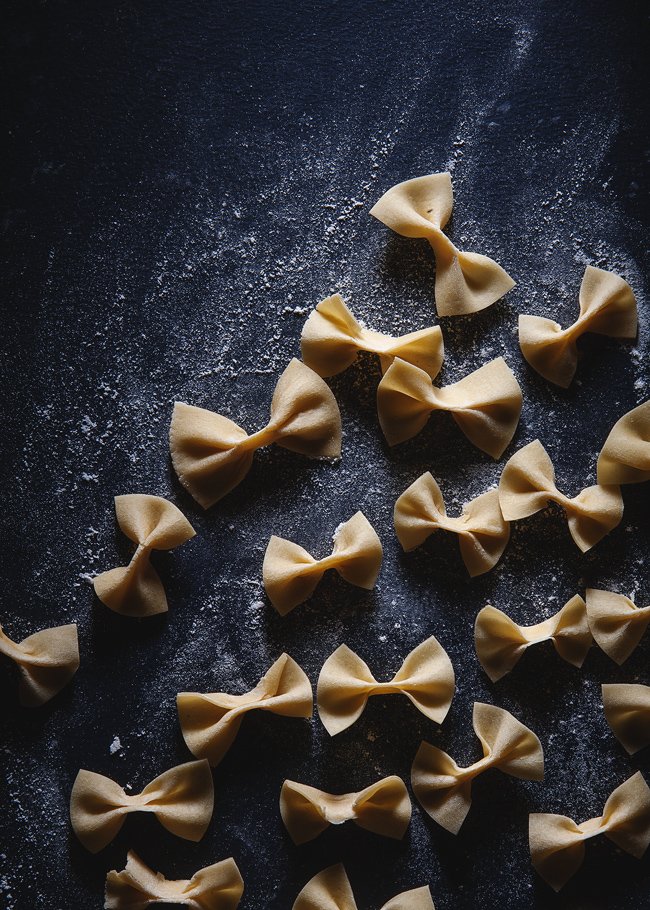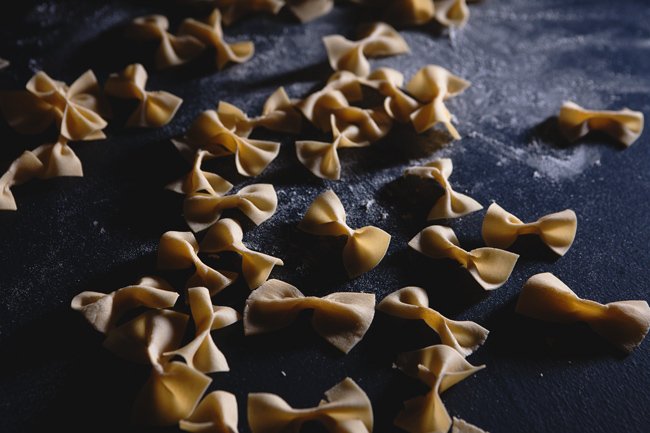 HOMEMADE FARFALLE (WITHOUT A MACHINE)
Adapted from The Kitchn
Serves 4 to 6
Note: Egg to flour proportions can range pretty dramatically. For an easier to work dough (that will be eggier), I'd go with a 1 egg to 1/2 cup ratio.
Ingredients:
1-1/2 cups all-purpose flour
2 eggs
Pinch of salt
Directions:
Make a volcano-like mound of flour on the work surface (meaning a hollow in the center). Crack the eggs into the hollow, sprinkle with salt, then, using a fork, gently start stirring the eggs, slowly incorporating the flour from the walls of the volcano.
Once the dough has become workable by hand—a fair amount of flour will have been worked in—use your hands to incorporate the rest of the loose flour. Once the dough has come together smoothly, knead the ball for about 10 minutes. If it's a little dry, add a splash of water, but continue kneading until it's smooth and sort of feels like clay. Cover the ball of dough with plastic wrap so it doesn't dry out, and let it rest for about half an hour. The dough should relax and become easier to work with after this period.
Cut the ball in halves or fourths, and begin rolling a piece out with a rolling pin, trying to keep its shape roughly rectangular. You want it to end up very thin, almost transparent. Using a sharp knife, slice the pasta into pieces that are about 1.5″ by 1″. Pinch each rectangle along the longer side really hard.
Roll out the rest of the dough in the same fashion. You'll now have tiny little butterfly-shaped pasta. Enjoy! You can also dry them by simply leaving them out covered with a dishcloth.