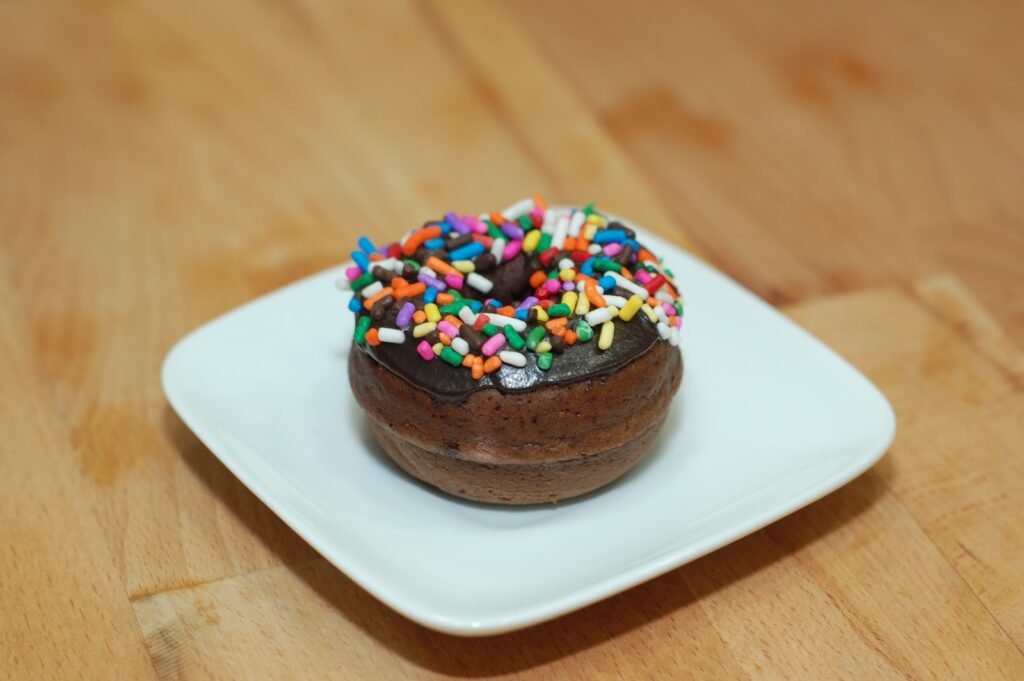 I was so excited. I have been wanting to make mini donuts for some time. Last week I saw the mini pans at Bed, Bath, and Beyond, but I didn't buy them because I thought I could get a better deal elsewhere. I then proceeded to spend my week going to every craft store looking for the Wilton mini donut pan. No luck. OK, so I went back to Bed, Bath, and Beyond over the weekend to pick one up. They were now sold out. Arg! I was not a happy camper.
They did however have one left of the babycakes donut maker, so I said what the heck and took it home.  I tried Aimee's Chocolate Donut recipe from healthyfoodforliving.com/recipes/
Chocolate Mini Donuts
By Shugary Sweets
Ingredients
2 cups flour
3/4 cup sugar
1/2 cup unsweetened cocoa
1 tsp baking powder (oops forgot to put in the picture)
1 tsp baking soda
3/4 cup plus 2 tbsp milk
2 eggs
1 tsp vanilla extract
2 tbsp butter, melted
Cooking Directions
Mix all dry ingredients together in a mixing bowl. Add milk, eggs, vanilla and butter. Using a mixer on medium speed, blend until smooth.
Fill each cooking reservoir with about 2 tbsp of batter.
Bake 2-4 minutes or until toothpick inserted in donut comes out clean. Makes about 24-28 donuts.
Chocolate Glaze
adapted from babycakes
Ingredients
3/4 cup powdered sugar
2 tbsp cocoa
2 tbsp heavy cream
1 tsp vanilla
Cooking Directions
Whisk all ingredients together adding more cream if necessary for glaze consistency.
Dip donuts halfway in glaze, place on wire rack and allow glaze to set.
Add sprinkles.
I did end up using a different glaze than Aimee for the donuts. I really like how they came out. The donuts were light and fluffy and not too sweet. I used dark cocoa for the glaze , so it gave it a nice finish. The babycakes machine was easy to use and easy to clean. The donuts really only took 2 minutes to bake. I still want to get the pans in the future, so I can make more at a time. And I have more donut recipes to try.