It's muffin time! Time for me to make some more healthy muffins to snack on, so my husband and I have something sweet to eat with our coffee without feeling guilty. Last time I made some Maple Pumpkin Banana Muffins based off of the recipe for my Strawberry Coconut Banana Muffins. This time I opted for zucchini, since that's what was in the fridge this week. These Maple Zucchini Banana Muffins are just as flavorful as the other two. I even increased the ratio of wheat flour to all purpose flour in the recipe to make them even more healthy. Although, you could probably use just whole wheat flour. The real key is the coconut oil, that's what make them so light and fluffy.

The ingredients are pretty basic. I did add some vanilla extract to these muffins because zucchini doesn't have as much of a sweet flavor as pumpkin.
I grated the zucchini by hand, but you can also do it in a food processor. The bananas, I just mash with a fork. When they are over ripe, they are very easy to mash.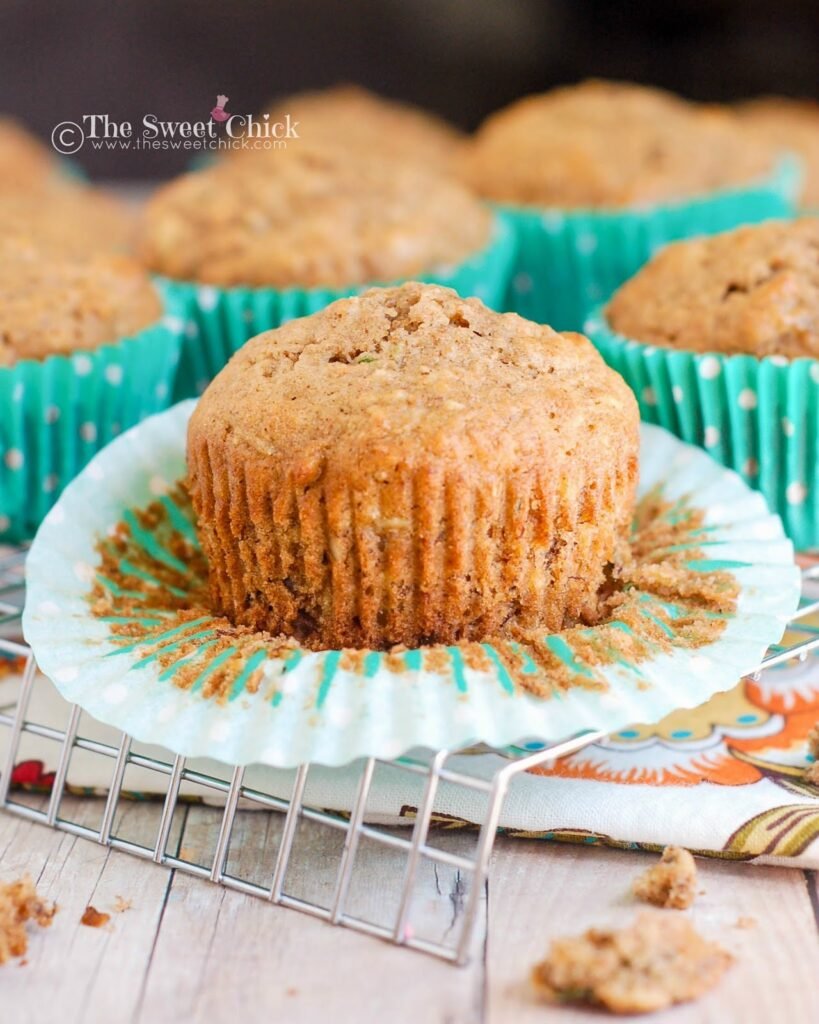 These are just the prettiest muffins. I love all the green bits of zucchini. I have never peeled my zucchini to bake with it. I just wash the skin and grate it whole. Why waste flavor. These Maple Zucchini Banana Muffins are perfect for breakfast, coffee breaks, school lunches, or dessert. They don't sit in your stomach like a brick and you don't feel bad eating them. The only problem is stopping yourself from eating more than one.
Maple Zucchini Banana Muffins
by The Sweet Chick
Prep Time: 15 minutes
Cook Time: 15 minutes
Keywords: bake bread breakfast dessert snack healthy banana maple syrup zucchini muffins bread American fall
Ingredients (15 muffins)
1/2 cup pure maple syrup
1/2 cup coconut oil
2 eggs, room temperature
1 teaspoon pure vanilla extract
1/2 cup shredded zucchini
2 medium bananas, mashed
1 cup whole wheat flour
2/3 cup all purpose flour
1 teaspoon ground cinnamon
1/4 teaspoon ground nutmeg
1 teaspoon baking soda
1/2 teaspoon salt
3/4 cup rolled oats
1/2 cup chopped walnuts
Instructions
Preheat oven to 375ºF.
Place solid coconut oil in a microwave safe bowl and microwave for about 20 seconds until melted.
In a stand mixer bowl add maple syrup, oil, eggs, vanilla, and shredded zucchini. Mix on low speed until completely blended.
Then add mashed bananas and mix until smooth.
In a medium bowl, combine flours, spices, baking soda, and salt. Mix with a spoon until well blended.
Add the flour mixture to banana/zucchini mixture and mix on low until completely incorporated.
Next, add the rolled oats and walnuts, mixing until they are evenly distributed.
Spoon batter into greased/lined muffin tins until about 3/4 full.
Bake at 375ºF for 15 minutes or until toothpick inserted in center comes out clean.
Remove from oven and enjoy warm or place on cooling rack and eat later.
Notes
These muffins are freezer friendly. I just defrost them at room temperature and keep them in an airtight container.