I am by no means a great cook.  I have had my fair share of mishaps in the kitchen.  I have over- seasoned, under-seasoned, burnt, dried, or completely trashed some meals ( ok, my husband would probably say more than some, but he is no one to talk, since he has had mishaps too).  But once in a blue moon I do get it right and come out with something delicious.  I decided to make lasagna the other night and really took my time to get it right and make it flavorful.  No one likes bland lasagna. And my husband is pretty picky about his lasagna.  So this is what I came up with: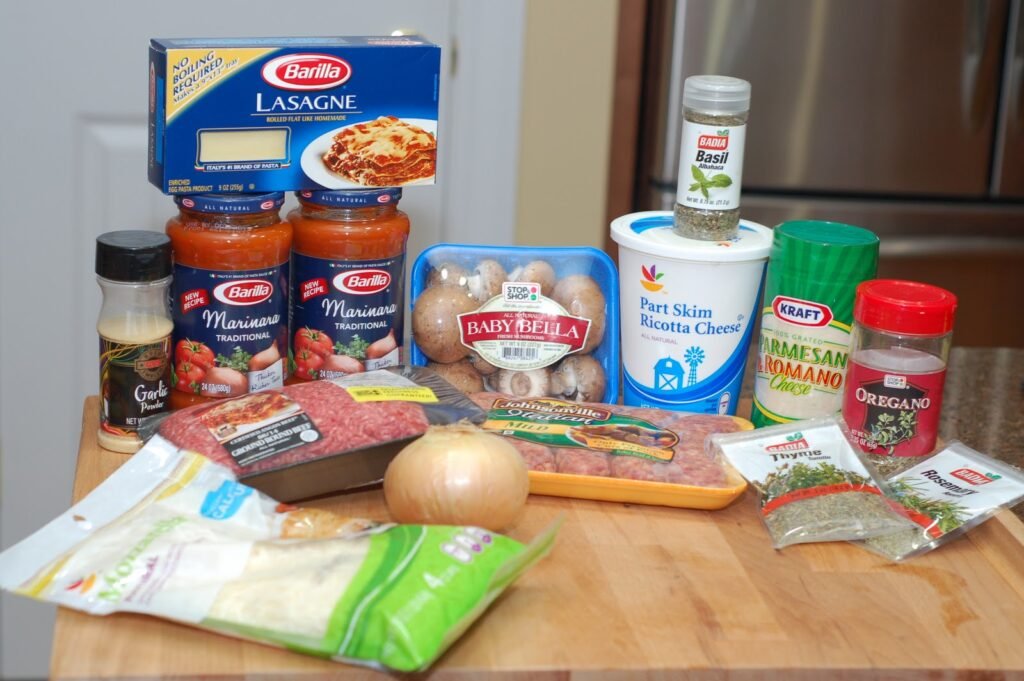 (I forgot to put eggs and butter in the picture.  I seem to be on a role of forgetting things lately.  That's what happens with 2 little ones running around the kitchen, while I am cooking.  Oh well, as long as I don't forget to put them in the recipe.)
My Lasagna
Ingredients
1 box (9oz) Barilla lasagne (no-boil kind)
1 lb ground beef
3 Italian sausages
2 eggs
1 container (15 oz) ricotta cheese
1 cup parmesan/romano grated cheese
1 1/2 cup sliced baby portabello mushrooms
1/2 medium onion, diced
1 tbsp butter
4 cups (16 oz) mozzarella cheese
1 tsp dried oregano
1 tsp dried basil
1 tsp dried rosemary
1 tsp dried thyme
1/2 tsp garlic powder
2 jars marinara sauce
Cooking Directions
Preheat oven to 375 degrees.
Take casings off the 3 sausages by cutting a slit at the top and squeezing out the insides into a pan. Crumble them up with the ground beef and cook until brown. Then drain and set aside.
In another pan place 1/2 tbsp butter and the sliced mushrooms, cook on medium/high until soft and set aside.
Use same pan add the other 1/2 tbsp butter and the diced onion. Cook on medium/high until soft and golden brown.
In a medium bowl, beat the eggs, then stir in the ricotta, 2 cups of mozzarella, and the parmesan/romano cheese. Then add the onion, all the dried spices and the garlic powder. Mix until all is well blended.
Then it's time to start layering. First I lined my 13 x 9 pan with Reynolds' Non-Stick Pan Lining Paper. Then spread 1 cup sauce on bottom.
Layer 4 uncooked pasta sheets, 1/3 cup ricotta mixture, half browned meat, 1 cup mozzarella and 1 cup sauce.
Layer 4 uncooked pasta sheets, 1/3 cup ricotta mixture, cooked mushrooms, 1 1/2 cups sauce.
Layer 4 uncooked pasta sheets, the remaining ricotta mixture and browned meat, and 1 cup sauce.
Layer 4 uncooked pasta sheets, the remaining sauce, and 1 cup mozzarella.
Bake covered with foil until bubbly, about 50-60 minutes. Then uncover and continue cooking until cheese is melted, about 5 minutes. (I leave mine uncovered, I like the top crunchy)
Let stand for about 15 minutes. Then cut and serve. Makes about 12 servings.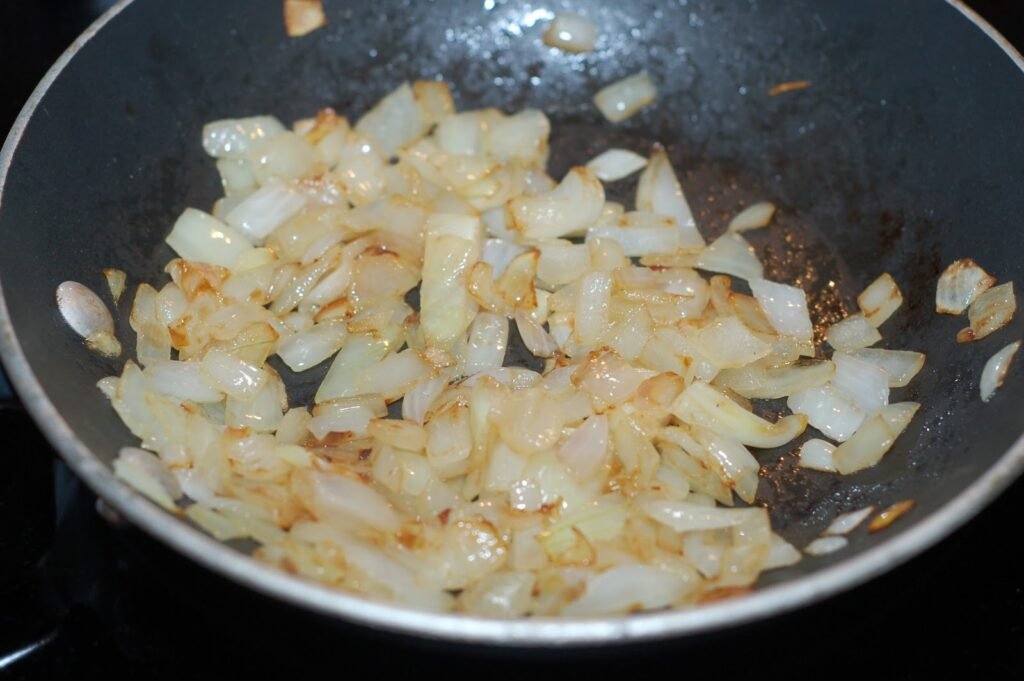 Carmelized onions add so much flavor to recipes.  And they are so easy to cook.
I love mushrooms and so do my husband and daughter so we use them a lot in recipes.
I had a coupon for this pan liner and wanted to try it out.  I hate scraping dried lasagna.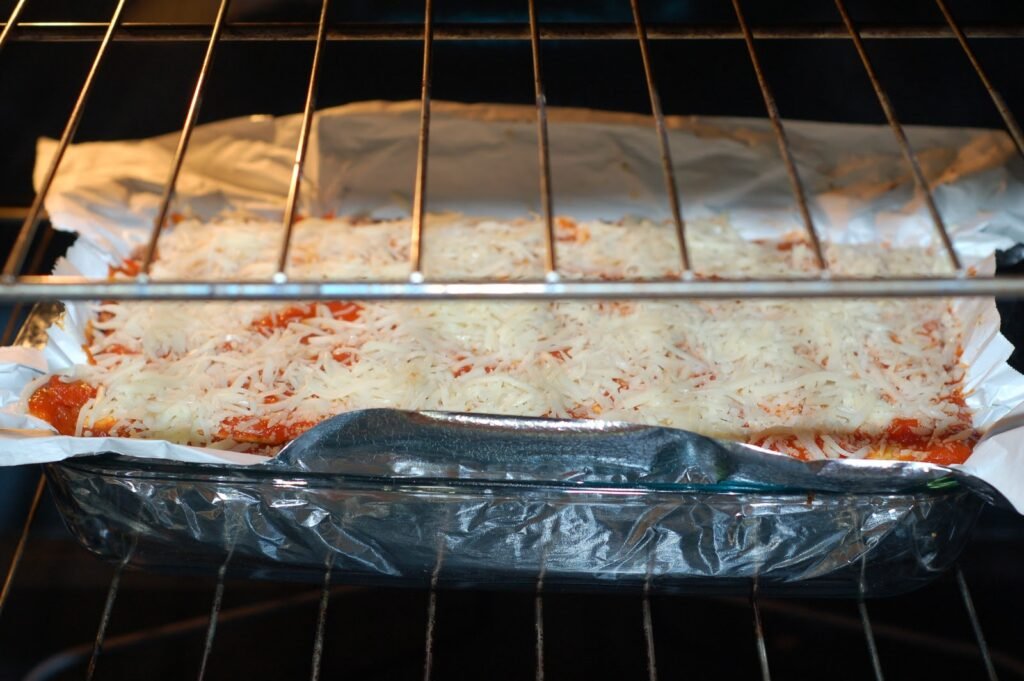 I don't put a foil on top when I bake the lasagna, but if you like your cheese nice and soft go right ahead and foil it.
Otherwise it turns out like this, which is the way I like it.  By the way, the liner worked great.  Saved a lot of time in the clean up.  Hubby really enjoyed this lasagna, so this recipe is a keeper.