I pride myself on how cleanly I can eat corn on the cob. In one miraculous maneuver (if I do say so myself), my head moving left to right like a typewriter, I consume the entire thing without leaving a single kernel behind. They are so detached so neatly that all that remains are long, empty furrows.
It's a strange thing to be proud of, no? I learned this skill from my mom, the Queen of Economy, who never wasted so much as a single kernel of corn. She instilled this mindset in my sister and me to an almost obsessive degree. Case in point: at the end of dinner, a quick examination of the bowls would reveal three—mine, my mom's, and my sister's—to be completely spotless. Not a single grain of rice, a single grain of rice, left to speak of. My dad's, on the other hand, is usually coated with a thin layer of the stuff, stained with residue from the meal. Oh Dad.
Like the children in Africa, us Chinese have our nongming, peasant class, to think of: every grain of rice left behind represents wasted toil on the part of the rice farmer. Of course, my dad comes from a family of rice farmers and he clearly isn't heartbroken over the squandered rice. My mom has a retort to that though—his family had pigs to feed.
Anyway, whenever I use corn in recipes, I think about how my mom would have a fit seeing how much of the cob I waste when sawing off the kernels. All that wasted sustenance, Linda!
It's a good thing I keep my cooking to a minimum when I'm visiting.
Today's recipe is healthy and delicious, and comes with a huge serving of corn, which, when in season, glows, lovely and diffuse. I love eating it raw, and I think you will too, especially if you can get it fresh. While quinoa isn't the most dazzling base for a summer side, this quinoa is light and fluffy, effervescent even, AND comes dressed in lemony butter. I'm sure you can imagine just what an effect lemony butter can have. Finally, the fresh mint and fresh scallion insert themselves—in their own unique ways—quite winningly, adding refreshing and ever-so-pungent notes (respectively) to the dish. All in all, I highly recommend making this as a counterbalance to a hefty platterful of meat.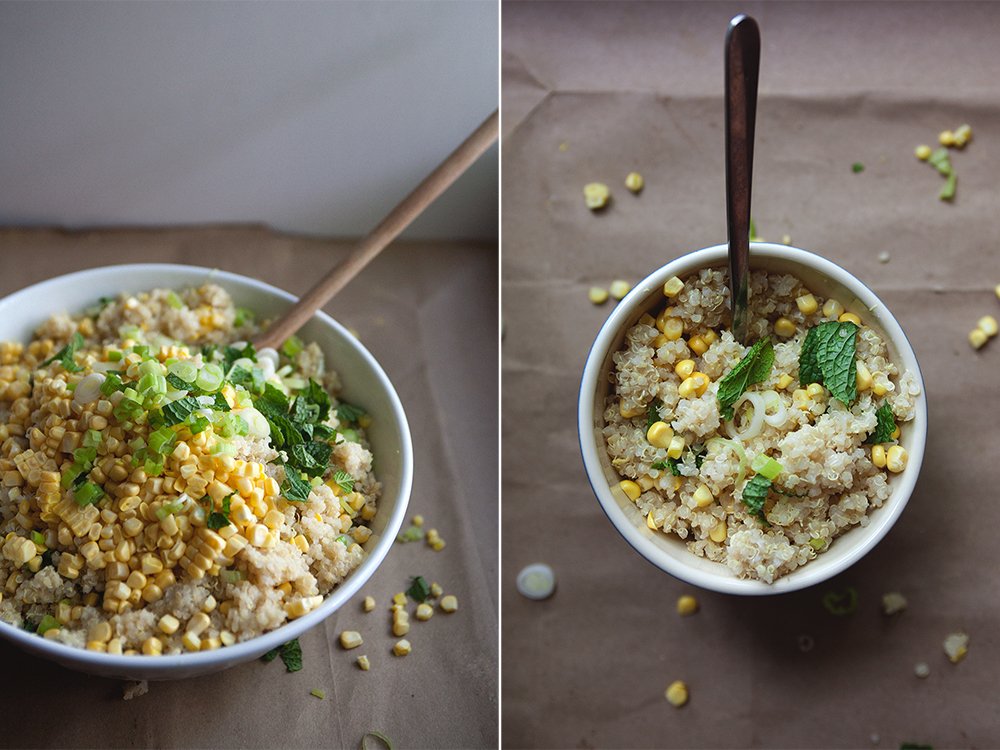 QUINOA WITH CORN, MINT, AND SCALLIONS
Adapted from Gourmet
Serves 8
Ingredients:
4 ears corn, shucked
Zest from 1 lemon
Juice from 1 lemon
1/2 stick butter (1/4 cup), melted
1 Tbsp mild honey
Salt & pepper to taste
2 cups quinoa
4 scallions, chopped
1/2 cup chopped fresh mint
Directions:
Since it's the season, simply cut the corn kernels off the cob with a heavy knife. Otherwise, put corn in a 5- to 6-quart wide pot, add water to cover, and bring to a boil, covered. Remove from heat and let stand, still covered, for 5 minutes. Transfer corn with tongs to a cutting board. When cool enough to handle, cut kernels off cobs with a knife.
In a (very) large bowl, whisk the lemon juice and zest, butter, honey, and salt/pepper until combined.
Cook the quinoa in a 4- to 5-quart pot of boiling salted water, uncovered, until almost tender, about 10 minutes. Drain in sieve, then set sieve over same pot with 1 inch of simmering water (water should not touch bottom of sieve). Cover quinoa with a folded kitchen towel, then cover sieve with a lid and steam until quinoa is tender, fluffy, and dry, about 5 minutes. Remove from heat and let stand (still covered) 5 minutes.
Add quinoa to dressing and toss until dressing is absorbed. Then toss in scallions, mint, and more salt and pepper if needed.
Note: Unless you're planning on feeding a crowd, I would highly recommend halving this recipe. It makes a lot more than you'd think.
Share on your social page if you like it!