How can I put this? These tartlets are prettier than they taste.
There. I said it. Is it horrible for me to admit that? I mean, what kind of food blogger am I if I'm posting only subpar recipes on my blog?
I can't help it that figs are so goddamn gorgeous!
On the other hand, the filling, goat cheese flavored, was kind of jarring, a little too weird I guess. I like the fig/goat cheese combination, but as a dessert, I'm afraid I cannot endorse the flavors.
So please, pretend I made this instead. I was originally intending to—I love mascarpone in desserts—but there was an open carton of heavy cream, a package of goat cheese, and some leftover sweet tart dough in the fridge that seemed on the verge of expiring. And when it's My Stomach vs. The Garbage, I'd much rather the former win, wouldn't you?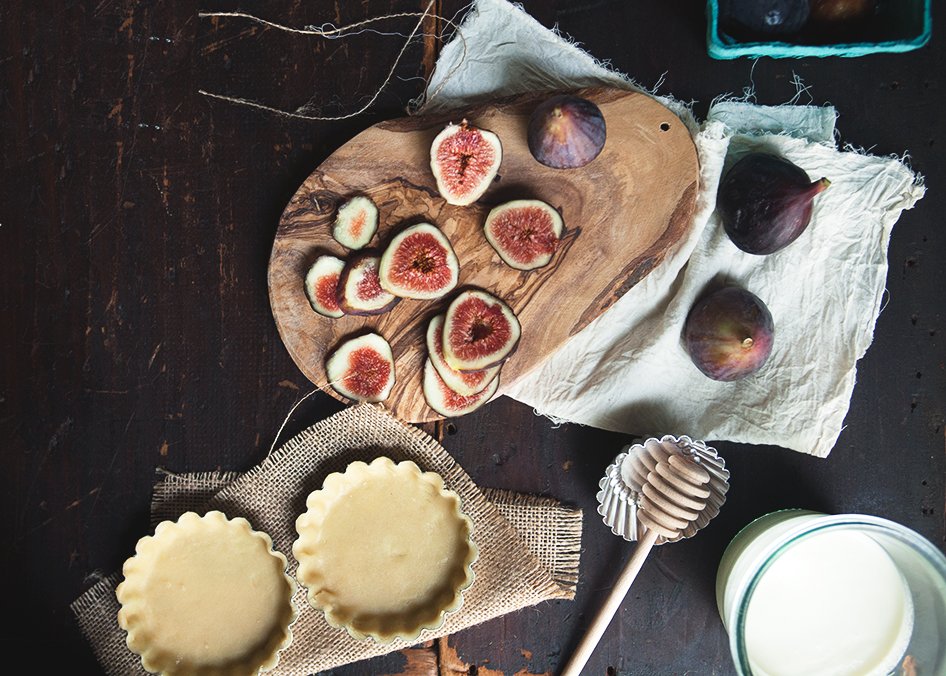 I keep hoping that over time, I'll learn to be a more prudent shopper. The kind who knows what she's going to cook in the upcoming week. The kind who doesn't end up tossing moldy bread and vegetables that have turned to mush and strange-smelling leftovers into the garbage. The kind who knows how to jie jue, get rid of. My dad always used to use this phrase whenever there was something that was on the verge of going bad that absolutely had to be eaten. He would make us feel guilty when he sacrificed his stomach for the higher cause of Food Conservation. The guilt didn't stick, evidently.
I shouldn't be too hard on myself because I'm not that bad. Has anyone mastered the art of not wasting food, completely and utterly? I dare you to say yes—and then to explain how you do it. Like, what would you do if you had, say, half a can of canned tomatoes and coconut milk that had been sitting around for awhile, a half bag of brownish green beans, a few stalks of withering scallions, a moldy hunk of cheddar, a bagful of sludge-y mixed greens, and about-to-expire whole milk to get rid of?
That's not hypothetical by the way.
As far as these fig tartlets are concerned, they tasted alright, especially within the first couple hours of the figs being sliced and filling being made. To improve their taste, here's what I would do: increase the honey by a significant amount until it almost masks the flavor of the goat cheese. (I ran out of honey, go figure.)
Or I would just make the mascarpone filling. But only if you've got some around that needs to be used up.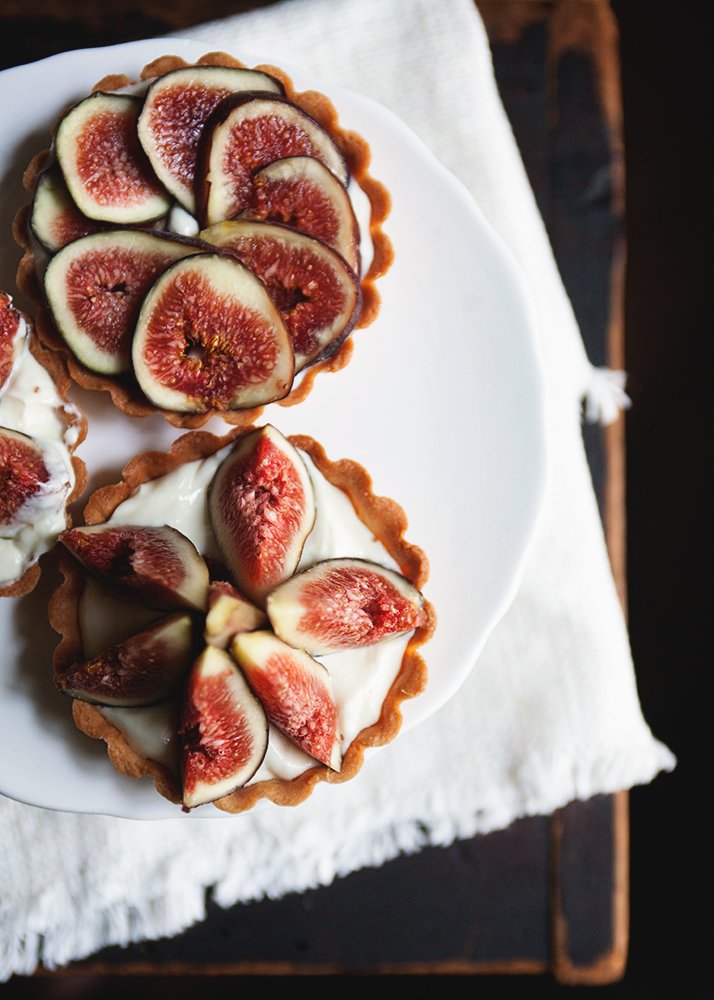 FRESH FIG TARTLETS
Sweet tart dough recipe from Tartine
Makes roughly 6 4-inch tartlets, though you may have leftover filling
Ingredients:
For the tart dough:
1/2 cup + 1 Tbsp unsalted butter, at room temperature
1/2 cup sugar
1/8 tsp salt
1 large egg, room temperature
1-3/4 cups all-purpose flour
For the filling:
2 cups heavy cream, cold
4 oz. goat cheese, room temperature
1/4 cup honey (I would recommend using more, to taste)
1/2 tsp vanilla extract
8 to 10 fresh figs
Directions:
For the tart dough:
Using a stand mixer, mix on medium speed the butter, sugar, and salt until smooth. Mix in the egg. Stop the mixer and scrape down the sides of the bowl. Add the flour all at once and mix on low speed until just incorporated.
On a lightly floured work surface, divide the dough into 2 equal balls and shape each into a disk of about 1/2 inch thick. Wrap in plastic wrap and chill for at least 2 hours or overnight.
When you're ready to line a tart pan, on a lightly floured surface, roll out a disk until it's about 1/8 inch thick. Work quickly so the dough doesn't become too warm and unworkable. (Refrigerate it for about 10 minutes when this happens.) Cut out a circle larger than the mold, then ease the circle lightly onto the pan. Gently press in the sides, but try not to stretch the dough too much or it'll shrink during baking. Refrigerate the shell for about 15 minutes until it is firm. (At this point, you can store your dough in the fridge for later use.)
Start preheating your oven at 325 degrees. Dock (make small holes using a fork) the bottom of the tart shell. Bake them in the oven for 10 to 12 minutes until golden brown. Set aside to cool.
For the filling:
In the bowl of a stand mixer outfitted with the whisk attachment, whip the cream to medium stiff peaks. In another bowl, mix the goat cheese, honey, and vanilla and gently fold in the whipped cream.
To assemble:
Spoon the filling into the cooled shell. Slice the figs into sixths and arrange on top of the filling.