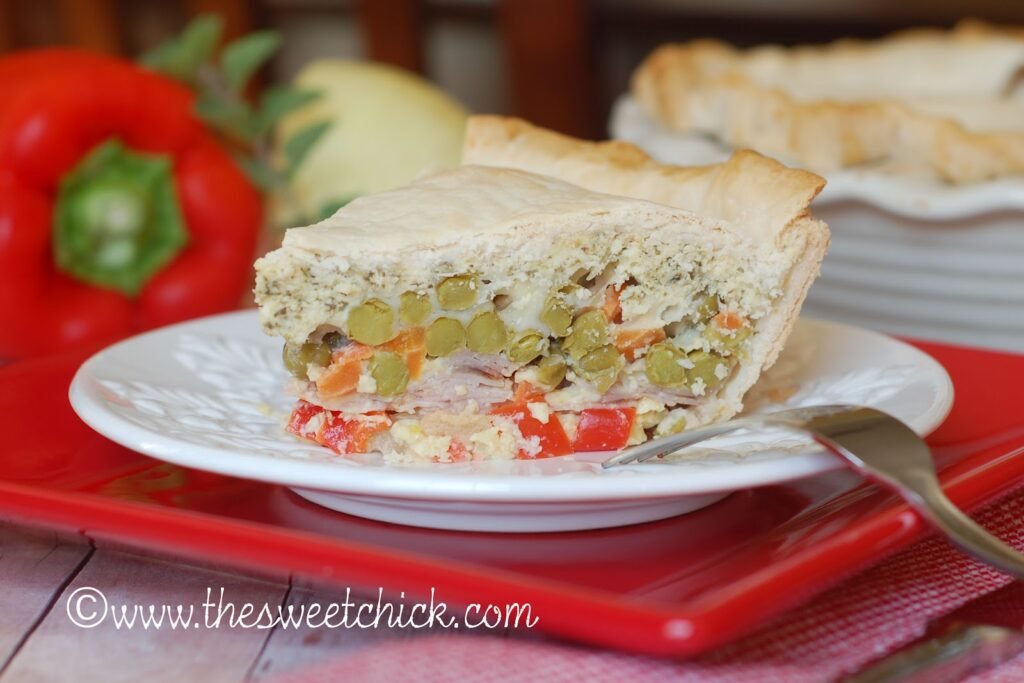 When I started dating my husband, he was going to college and living with his family.  I usually went to see him after work, which was around the time his mother was serving dinner.  I of course am not the kind of person to refuse a delicious meal, so I partook of his mother's culinary delights.  A lot of what she cooked was not anything I grew up eating, so it was an interesting endeavor.
This particular pie was one of my husband's favorite, so after we were married and living together, I asked his mom for the recipe.  I had no idea what I was doing in the kitchen, so I needed all the help I could get.  This pie was simple and pretty much no fail.
The ready made pie crust saves a lot of time.  The rest of the ingredients, you basically do a quick prep and throw them in the pie shell.  It doesn't take much time to put together and you can go do some laundry while it bakes.
I just used a cookie cutter to cut a shape in the top pie crust, but you can also just make some slits to let the steam out.  My crimping is not the best, but I wasn't trying to win any contests.
My mother-in-law brushes her pie crust with milk and sugar to get a nice golden color.  It really does come out picture perfect.  I baked this in my Pampered Chef Stoneware pie dish, but I have also done it my Pyrex glass pie dish and have gotten the same results.
I hadn't made this pie in quite a while so hubby was happy to have some. My cooking has gotten a little better than when we were first married. It helps when I cook something he likes.
Ham, Cheese, and Vegetable Pie
Prep Time: 20 minutes
Cook Time: 30-35 minutes
Keywords: bake entree ham cheese vegetables
Ingredients (serves 8)
1 cup chopped onion
1 cup chopped red pepper
1 cup chopped tomato
1/2 lb. deli ham, sliced thin
1 can peas and carrots
1 cup shredded cheese (mozarella, swiss, or Italian blend)
1 tablespoon dried oregano
1 cup grated parmesan cheese
4 eggs
salt and pepper to taste
1 box ready to bake pie crusts
1/4 cup milk
1 teaspoon sugar
Instructions
Preheat oven to 350º F
Place one pie crust at the bottom of pie dish.
Spread the onions, peppers, and tomatoes evenly on the pie crust.
Slice deli ham into short strips and spread evenly oven the veggies. Then cover with peas and carrots.
Next add a layer of shredded cheese.
In a small bowl whisk together the eggs, oregano, and parmesan cheese. Add salt and pepper to taste.
Pour the egg mixture over the entire contents of the pie.
Cut slits or a small hole in the second pie crust and place on top of the pie. Crimp the edges by hand to form a seal.
Mix together the milk and the sugar. With a pastry brush, brush the top pie crust with a thin coat of the mixture.
Place pie in the oven and bake at 350º F for 30-35 minutes until the crust is a golden color.