This past weekend I was looking for something to do with all this leftover Halloween candy we have laying around. We didn't get a lot of trick-or-treaters due to the fact our Halloween had to be postponed a week. As I mentioned before, we had a freak snowstorm pass on through our state which led to tree branches being too heavy with leaves and snow, breaking off and taking power lines down with them. No power = no Halloween. Thank goodness our neighborhood agreed to do it the following Saturday so the children wouldn't miss out. However, not all the kids came out. So that left me with a lot of goodies. I could eat them all by myself, but that wouldn't end well. So instead I scoured the cupboards to get some ideas.
I found a box of brownies, a lot of Milky Way bars and a recipe for Salted Caramel Frosting that I have been wanting to try. The plan was set. I took out my mini cupcake pan and set to work.
First I chopped up all those pesky little Milky Way bars that keep calling my name. Then I made the brownie mix according to the directions on the package, except instead of putting the mix in a pan, I sprayed my mini cupcake pan with some Pam and poured in the brownie mix.
I took the bits of Milky Way bars and put a piece in each brownie cup. You want to push them all the way in till they are covered. I didn't and some kinda popped out in the bakng process. I baked the brownie cups for 10-15min. When done I let them cool off.
They looked good just as they were, but I can never leave well enough alone. So I took out the recipe for Salted Caramel Frosting and got back to work. First thing was to make the salted caramel. It's just sugar with a little bit of water. Who woulda thunk it? It actually wasn't that difficult to make.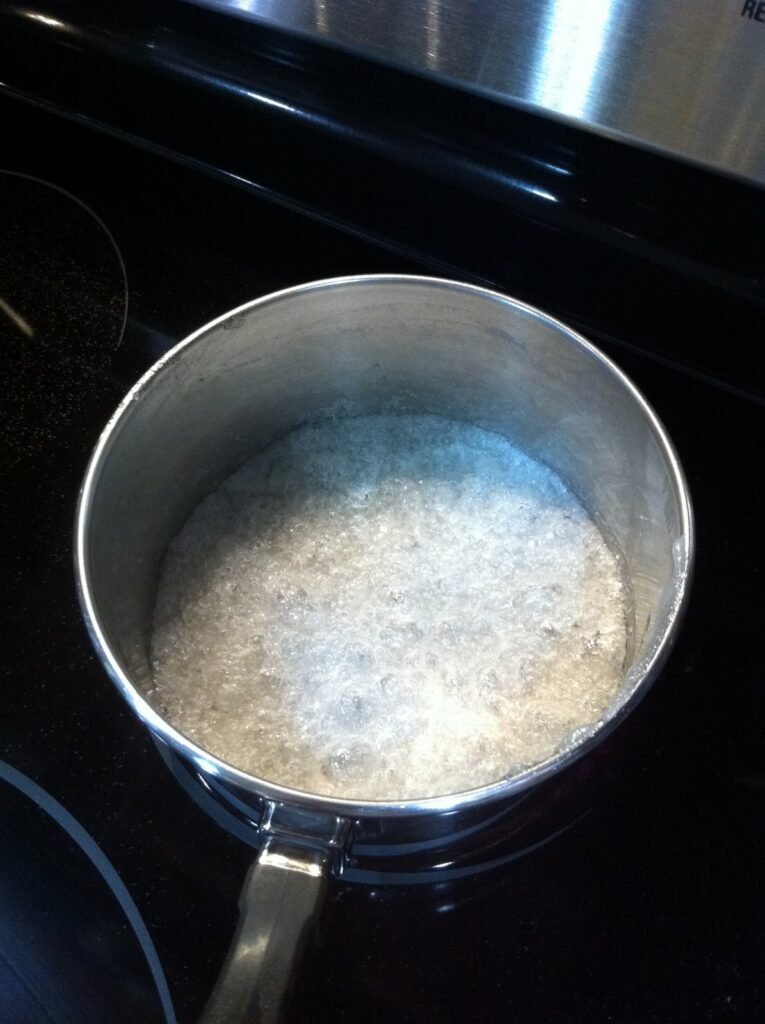 I only messed up a little bit when I went to add the cream and added it to quickly. It made the sugar clump up a little. But I just took the clumps out. Shhh. Don't tell anyone. It still tasted great. Yay! My first caramel.
Salted Caramel Frosting
By Amy Wisniewski
Ingredients
1/4 cup granulated sugar
2 tablespoons water
1/4 cup heavy cream
1 teaspoon vanilla extract
12 tablespoons unsalted butter (1 1/2 sticks), at room temperature
1 teaspoon kosher salt
1 cup powdered sugar
Instructions
Briefly stir together granulated sugar and water in a small saucepan and bring to a boil over medium-high heat. Continue cooking, without stirring, until mixture turns dark amber in color, about 6 to 7 minutes.
Remove from heat and slowly add in cream and vanilla, stirring with a wooden spoon until completely smooth. Set aside until cool to the touch, about 25 minutes.
Combine butter and salt in the bowl of a stand mixer fitted with the paddle attachment and beat on medium-high speed until light in color and fluffy, about 3 minutes. Reduce speed to low, add powdered sugar, and mix until completely incorporated.
Turn mixer off and scrape down the sides of the bowl, then add caramel. Beat frosting on medium-high speed until airy and thoroughly mixed, about 2 minutes. Cover and refrigerate until stiff, about 45 minutes, before using.
Time for a taste test.  Mmmm.  That was good.  Before I even had a chance to post this, I was looking at Amanda's post at healthyfoodforliving.com/recipes/ and it looks like she had the same idea over the weekend.  Except she made regular sized chocolate chip cups with Babe Ruth bars, topped with vanilla buttercream frosting.  How funny is that.  Great minds think alike.  I will have to try her recipe now.