Have you ever had a Noah's Bagels pumpkin bagel? I think it singlehandedly converted me into a bagel lover. Unfortunately (or maybe fortunately?), it's seasonal, so it's only obtainable one fleeting time a year, making it limited edition and therefore that much more desirable (like those mint chocolate Kisses that they sell around Christmas, have you had them?) And after I graduated from college and moved out of my college town, I stopped going to Noah's altogether. Which is a shame, because pumpkin bagels, you have been sorely missed!
Well, I've got news for you. Homemade pumpkin bagels are just as good. Or, nearly as good, because in my case, they turned out rather ugly. Knobby. Imperfect, through and through. But seriously, homemade bagels, where have you been all my life? Just floating around, a vague idea in my head, that I never pulled off because I'd mistakenly thought you were really hard to make.
That's the thing: these bagels were not difficult to make at all. I know that there are lots of ways to complicate the process, resulting in Bronx-worthy (and better-looking) bagels, but besides the extra step of boiling them, which admittedly was rather tense because I was trying to brush the egg wash on the cooked bagels and top them at the same time, most of the work was performed by my Kitchenaid mixer.
The bagels are so delicious when they come out of the oven. Soft but springy from the extra long bath I gave them, and laced with pumpkin. I also incorporated whole wheat flour into the recipe, resulting in the perfect fall breakfast food alongside a steaming cup of coffee. But make sure to toast them, because we all know that bagels taste best lightly toasted with a thick smear of cream cheese (the sliced tomatoes are optional. And the lox is a splurge!) But please please please don't eat them with low-fat cream cheese. (We usually avoid low-fat products, but our grocery store had run out of the regular whipped kind.) It's no substitute.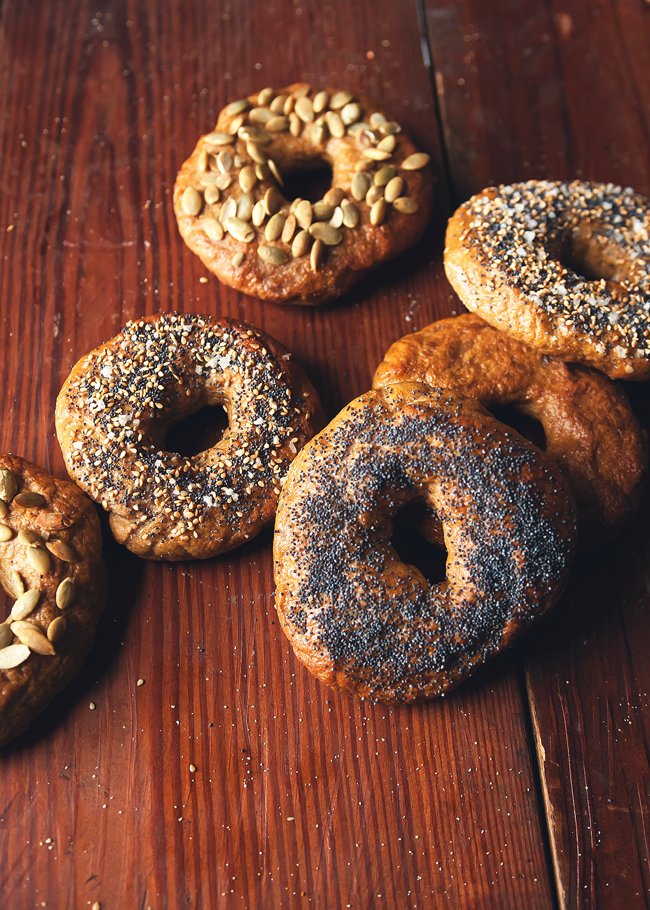 PUMPKIN BAGELS
Adapted from Honest Cooking
Makes 8
Ingredients:
2-1/4 tsps. active dry yeast
1 cup warm water
1/3 cup brown sugar
2 cups all-purpose flour
1 cup whole-wheat flour
1 tsp ground cinnamon
1 tsp salt
1/2 tsp ground nutmeg
1/4 tsp ground ginger
1/4 tsp allspice
1/2 cup unsweeted pumpkin puree
1 Tbsp baking soda
1 egg
cornmeal for dusting baking pan
Toppings:
2:2:1 of poppy seeds
sesame seeds
sea salt
poppy seeds
pumpkin seeds
black sesame seeds
sesame seeds, etc.
Directions:
In the bowl of a stand mixer, combine yeast, water, and brown sugar. Whisk together and set aside.
In the meantime, in a large bowl, combine flours, cinnamon, salt, nutmeg, ginger, and allspice. By now, the yeast mixture should be frothy and ready to go. Add the pumpkin puree and using the dough hook, start mixing on low speed. Slowly add the flour mixture until it's completely combined, about 3 to 5 minutes. At this point, the dough should be smooth and elastic, but not too sticky. If it is, incorporate 1 to 2 more Tbsps of flour.
Place dough in a bowl coated with oil and cover, allowing it to rise in a warm place until dough doubles in size, about 90 minutes.
Remove the dough and punch it down. Divide it into 8 equal pieces and roll them into balls. Cover and let rise about 20 minutes more.
At this point, using your thumb, punch a hole into the middle of the ball and widen it, taking care that the ring is even on all sides. Widen the hole more than you think necessary, because it will shrink. Set the dough on a lightly greased baking sheet. Repeat with the other balls.
Preheat your oven to 425 degrees F and get the egg wash ready.
Fill a large pot about halfway with water and bring it to a boil. When it's started boiling, pour in the baking soda (. Then gently drop 2 to 3 bagels in and cook for 2 minutes. Flip them and cook for 2 minutes more (the longer you boil the bagels, the chewier they will turn out. I like my bagels chewy. You can boil them for 1 minute on each side if you'd like.) Once done, remove them with a slotted spoon and drain well on paper towels. Then brush them with the egg wash and top with whatever toppings you'd like. Sprinkle cornmeal on the baking pan you had set them on earlier. Place the bagels on top. Repeat the same procedure with the rest of the bagels.
Once all the bagels have been boiled, bake them in for 15 to 20 minutes, rotating the pan halfway through. Let them cool before digging in.