I was watching the Pillsbury Bake-off Contest 2013 all weekend via Instagram.  There were a lot of my favorite bloggers in attendance.  The whole event looked a lot of fun from their media perspective, but I couldn't imagine how much pressure the contestants were feeling trying to win $1 million dollars.  That's just crazy.  I don't think I could perform under that kind of pressure.  But I would love to know how it feels to win.  Perhaps someday I will enter.  In the meantime, I was inspired to whip up these little treats for the family this weekend.

This recipe is adapted from the 1969 Pillsbury Bake-Off Contest winning recipe, the Magic Marshmallow Crescent Puffs.  I had some leftover Jet-Puffed Pumpkin Spice Mallows in the pantry and didn't want them to go to waste.  I actually never made the marshmallow puffs before. 
My daughter had a blast helping out.  They are easy enough for a 7 year old to put them together. 
Just dip the marshmallows in the butter and in the sugar mixture.  Then roll them up in the crescent.  Since the Pumpkin Spice Mallows are smaller than a regular marshmallow, I used two.  And I rolled them up from the wide end of the crescent instead of the narrow end.  I just folded the sides in over the marshmallows and then rolled them up.
Then you need to make sure all the edges are sealed.  I just pinched them a little with my fingers.
Don't forget to dip the bottoms in the remaining butter.  This helps a lot if the crescents leak and makes a sticky mess.
I did have a couple of the puffs leak out a little filling, but since I had greased my pan well and with the added butter, they came out of the pan easily. 
I added a little maple syrup to the glaze for a some extra flavor.  And for fun, I added some sprinkles.  I like how the marshmallows melt away and leave behind a sweet, gooey filling.  The maple glaze topped it off just right.
hese are a great after school treat for the kids or you can double up the recipe for a party. Enjoy!
Pumpkin Spice Marshmallow Puffs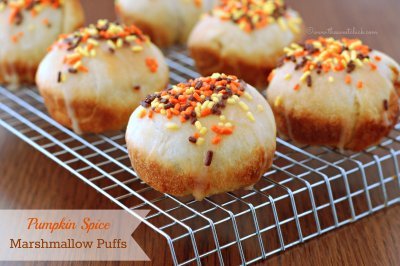 by The Sweet Chick
Prep Time: 15-20 minutes
Cook Time: 12-15 minutes
Keywords: bake dessert snack crescent rolls pumpkin spice pumpkin spice marshmallows maple syrup crescent rolls American fall
Ingredients (8 servings)
For the puffs
2 tablespoons sugar
1 tablespoon all purpose flour
1/2 teaspoon pumpkin pie spice
1 can (8 oz.) ready to bake crescent rolls
16 Jet-Puffed Pumpkin Spice Mallows
2 tablespoons butter, melted
For the glaze
1/4 cup powdered sugar
1 teaspoon pure maple syrup
1 tablespoon milk
Optional toppings
Instructions
For the puffs
Preheat oven to 375º F.
In a small bowl, mix together the sugar, flour and spice.
Separate crescent rolls into 8 triangles and lay on a flat surface.
First dip each marshmallow in the melted butter, then dip each in the sugar mixture and coat evenly.
Place 2 marshmallows side by side at the widest end of the crescent roll. Wrap the side inwards over the marshmallows then roll until marshmallows are completely covered.
Pinch all seam with fingers to make sure they are sealed. Repeat process for all marshmallows until all crescent rolls are filled.
Dip bottoms of each filled crescent roll in the remaining butter and place buttered side down into a greased muffin pan. You may place muffin pan on a cookie sheet in case of spillage.
Bake at 375ºF for 12-15 minutes or until tops are golden.
Remove from oven and let the crescent puffs cool for 1-2 minutes.
Then remove them from the pan and place them on a cooling rack with a wax paper underneath and prepare the glaze.
For the glaze
in a small bowl mix together the sugar, syrup, and milk until smooth.
Then drizzle evenly over the crescent rolls with a spoon and let the glaze set.
For the toppings
If you want to add sprinkles, add them before the glaze sets.
You can serve these warm or at room temperature. Either way they are just as tasty. And they still taste good the second day if placed in an airtight container.