When I was in college and hence a student on a budget, there were two restaurants that I reserved for special occasions. The first was a restaurant provençal, a French-style brunch spot that made the most perfect egg dishes. I'd go with friends and devise ways to eat everything on the menu. Real strategists we were. The second spot was an upscale-ish Louisiana-style restaurant. Angeline's. What a heartbreaker.
Eating at Angeline's was always a splurge, and because we were going all in with cash expenditure (remember, poor college student at the time), we also went all in with consumption of the deep-fried, the buttery, and the if-I-ate-this-regularly-I'd-develop-heart-disease. You see, it was a splurge on every front.
To start, an order of hush puppies. Such homely little things, and yet, we'd spear one of those little suckers and liberally roll it around in the honey butter and it would just melt in the mouth. I also loved the fried chicken, mac and cheese, sweet tea, beignets, and banana fosters bread pudding (dessert is absolutely mandatory when splurging).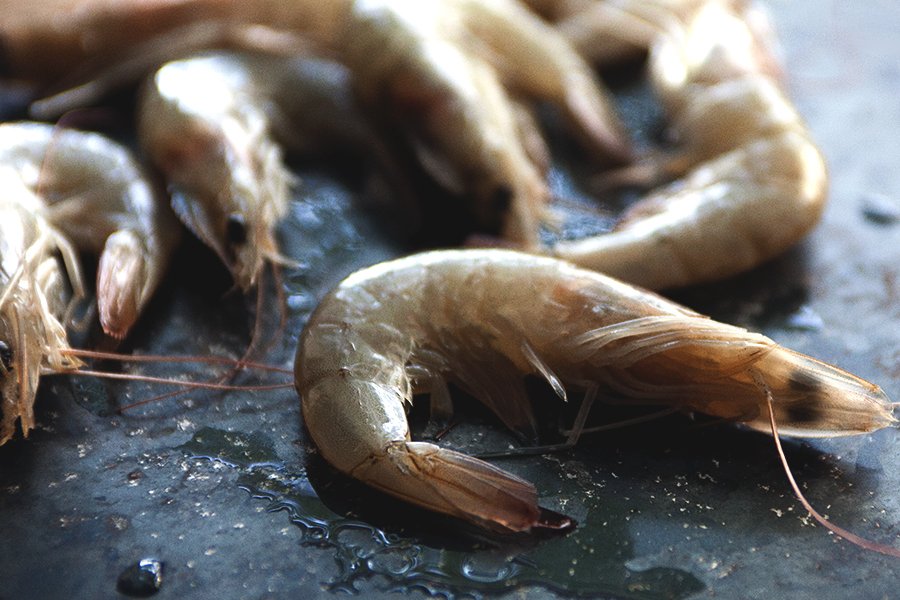 And so, a small spurge on shrimp the other day (for us at least since we rarely eat seafood) had me thinking Cajun food. I sought out a recipe, something a little different, that would bring back the taste of Angeline's. And you know what? Louisiana barbecue shrimp is it. You get a skillet-ful of shrimp slathered in a tangy, flavorful sauce, messily eaten with some fresh bread. Golden! Even better, it calls for, what, 5 minutes on the stove? Tops? (New York summer, you win. I concede to your might.) I fist pump at discoveries like these.
What were/are your splurge restaurants when you were/are in college?
LOUISIANA BARBECUE SHRIMP
Recipe from Martha Stewart Living
Serves 4 (or 2 people who are exceptionally hungry. I'm not going to lie, we polished the whole thing off in one sitting)
Ingredients:
1 stick of butter (4 ounces), cut into small pieces
3 garlic cloves, minced (1 Tbsp)
1 Tbsp finely chopped fresh rosemary
1/3 cup fresh lemon juice (from 2 lemons), rinds reserved and sliced
1/4 cup Worcestershire sauce
1-1/2 tsp hot sauce (i.e. Tapatio or Tabasco)
1 pound shrimp, peeled but with heads and tails still attached
salt and pepper to taste
fresh baguette for sopping up the sauce
Directions:
Heat a 12-inch skillet over medium-high heat. Add butter, and cook until melted and foamy. Add garlic, rosemary, and lemon juice and rinds. Stir in Worcestershire and hot sauce, and bring to a simmer.
Season shrimp with salt and pepper and add to skillet. Cook until pink and firm to the touch. Season with pepper. Serve with baguette.
Note: I did not peel my shrimp, and I think I should've because a lot of the flavor ended up on the shell, which subsequently got peeled and tossed.