So I missed the bandwagon when maple bacon treats came around.  ThenI must have dozed off when chocolate bacon treats were making the rounds.  So I thought I'd make up for it by throwing it all together.  This is by far my craziest Rice Krispie treat yet.  It has cinnamon, maple syrup, bacon, chocolate and sea salt.  If you think all these don't belong together, then you will just have to make some for yourself to see that oh yeah baby, it does and you can't each just one.
Yes that is a jug of wine in the picture.  No it is not filled with wine, it's my dad's maple syrup.  It's just a convenient container.  If you can't find the Cinnamon Bun marshmallows, you can use 5 cups of regular mini marshmallows.  Do try to get a good bacon though.  Skip the turkey bacon, go for the real stuff.
Cook your bacon till crispy, not burnt.  Otherwise you will have to pick out the burnt parts like I had to on a few pieces.  Perhaps it would have been helpful if the kids had found a better place to play than in the kitchen between my legs.  We have so many rooms, but they always choose the one I am in.  "Sigh"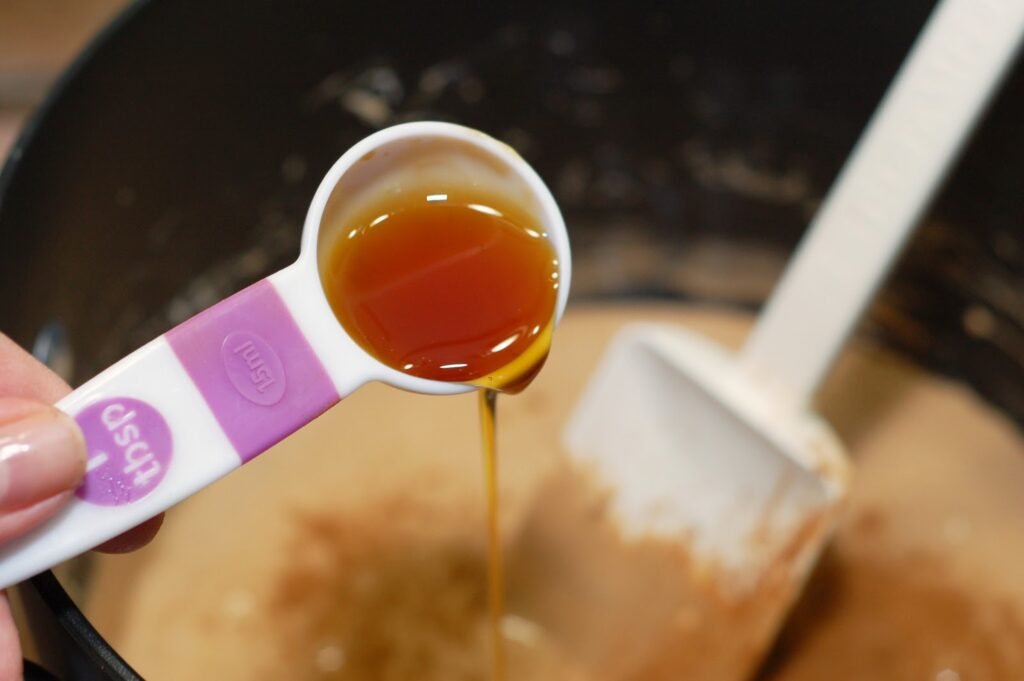 I used both pure maple syrup and maple essence.  I wanted to make sure there was a good maple presence without adding too much liquid and making the bars to soft to hold together.
At this point it smelled like I was making french toast sprinkled with cinnamon along with a slice of bacon and drizzled it all with maple syrup.  It smelled like Sunday morning breakfast.
Just look at all those little bits of bacon.  You can go ahead and cut yourself a slice of this now or be wild and crazy like me and slather it with some chocolate.
I was trying to decide between dark chocolate and semi sweet, but the dark side always prevails.
This is my very fancy double boiler.  Don't mind the scratches on my Pyrex bowl.  It's had a lot of use over the past 13 years.
My husband did give me some weird looks when I was pouring chocolate over my treats.  He still didn't understand the bacon part.  I told him, don't worry, it will all work out.
He did believe me when he finally got to try a piece.  The bacon does not overwhelm, it just blends in with the cinnamon and maple flavors to give a nice salty sweet combo.  The chocolate and sea salt on top also add to the overall salty sweet taste.  This is one treat to keep on the books.  People may look at you funny when you tell them what is in it, but they will come back for more after they have tried it.
Maple Bacon Rice Krispie Treats
by The Sweet Chick
Prep Time: 20 minutes
Cook Time: 10 minutes
Keywords: no bake stove top dessert snack maple syrup bacon cinnamon chocolate bars rice krispie treats American
Ingredients (24 bars)
For the Rice Krispies
3 tablespoons butter
5 cups Jet Puffed Cinnamon Bun marshmallows
1/2 teaspoon cinnamon
1 tablespoon pure maple syrup
1 teaspoon maple essence
1/2 pound bacon, cooked and crumbled into small pieces
6 cups Rice Krispie cereal
For the topping
1 bag (12 oz.) Hershey's Special Dark chocolate chips
Optional topping
Instructions
For the Rice Krispies
In a large sauce pan, melt butter and marshmallows over low heat. Stir until completely melted.
Remove from heat and add cinnamon, maple syrup, maple essence, and bacon pieces. Stir until completely mixed.
Then add the Rice Krispie cereal. Mix until all is well incorporated.
Then pour the mixture into a greased 9 x 13 pan or a cookie sheet and spread it evenly with a piece of waxed paper.
Place in fridge to cool and set.
For the chocolate topping
Place chocolate chips in a double boiler (or a glass bowl that fits snugly over your pot) filled with water.
Bring water to a simmer on medium heat. Once chocolate starts melting, stir constantly with a rubber spatula until all chocolate is melted and had a smooth consistency.
Remove from heat and pour the chocolate over the cooled Rice Krispies and spread evenly with the spatula.
Allow the chocolate to cool a bit, then sprinkle lightly with sea salt if desired.
Place treats back in fridge to set completely.
Once the chocolate has solidified, cut into squares and enjoy!