Apparently, I didn't get rid of all my Halloween candy. I found a bag of Hershey's Candy Corn Creme bars in the back of the pantry and I still had a bag of Candy Corn M&M's that I hadn't opened. The kids already had enough candy, so I needed to use these in some kind of dessert. Blondies came to mind, because I have never made them, not have I ever eaten them. Shocking isn't it. I'm a chocaholic so I tend to migrate towards chocolaty desserts. These Candy Corn Creme Blondies may change that.
I wasn't quite sure how these would turn out. I threw some marshmallows in for some extra creaminess.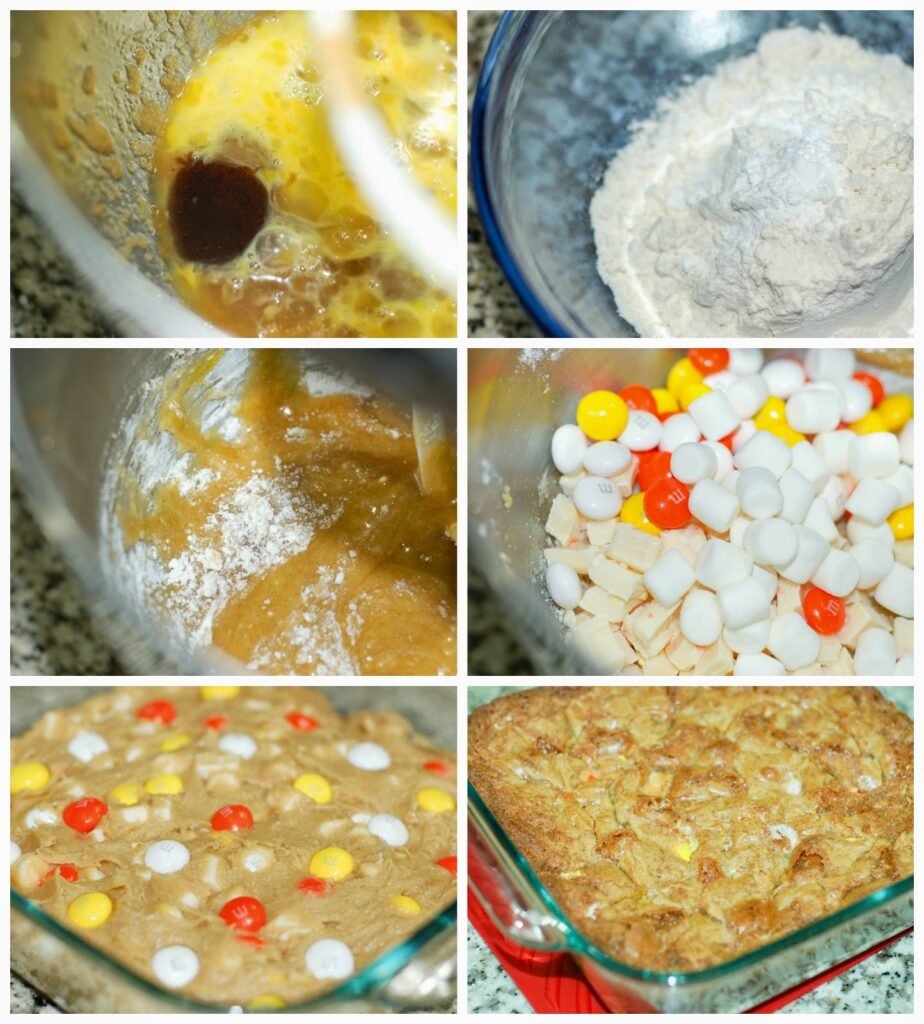 I also added some extra M&M's to the top for looks, but then it really didn't matter when I took it out of the oven. They had all disappeared. They did take a bit longer than expected to cook and I thought I had burnt them. The edges looked like they would be hard, but they actually fell apart as you ate them and had a scrumptious caramel flavor. The middle of the bars are soft and chewy. Holy sugar rush though. I think I felt cavities forming just by taking a bite. But nothing a nice glass of milk or a cup of coffee wouldn't cure.
Did this dessert turn out the way that I wanted? Nope. Did it look ruined and hideous? Yup. Does it taste super sweet? Absolutely. Could I eat just one piece? No way, Jose. I don't know what it is about these bars, but they are like crack. The butter and sugar melted together to form a beautiful caramel that blended so well with the white chocolate and candy corn flavors. I normally don't like things super sweet, but these are the exceptions. The kids loved them, hubby loved them, and the neighbors loved them. So I guess they weren't ruined after all. I am going to have to make some more.
Candy Corn Creme Blondies
by The Sweet Chick
Prep Time: 15 minutes
Cook Time: 30-35 minutes
Keywords: bake dessert Hershey's Candy Corn Creme bar Candy Corn M&Ms Halloween blondies bars American fall
Ingredients (9 squares)
1/2 cup butter, melted
1 cup light brown sugar
1 egg, lightly beaten
1 teaspoon vanilla extract
1/2 teaspoon baking powder
1/8 teaspoon baking soda
pinch of salt
1 cup all purpose flour
1 cup chopped Hershey's Candy Corn Creme bars
1/2 cup Candy Corn M&Ms
1/2 cup mini marshmallows
Instructions
Preheat oven to 350° F.
In a stand mixer, mix together the butter and sugar till well blended.
Then add the egg and vanilla. Mix well.
In a small bowl, mix together the baking powder, baking soda, salt and flour.
Add the flour mixture to the butter/sugar mixture and mix until well incorporated, making sure to scrap down the sides of the bowl.
Add in the candies and marshmallows, mixing until well distributed.
Pour mixture into a greased 8 x 8 pan. Smooth out the top with a spatula.
Place in oven and bake at 350°F for 30-35 minutes or until a toothpick inserted in the middle comes out clean.
Cool completely before cutting and serving. Enjoy!