I am so excited. I made macarons!! I took classes to make macarons two years ago at Sur la Table, but never made them at home. I never had the time or the patience. But they are actually not that hard to make. I will admit the first try didn't go as well. The macaron batter spread too much, and the macarons stuck to the parchment paper after baked. I narrowed down my problems and tried again. I made sure that my meringue was stiffer this time, I changed the brand of parchment paper, and I used a smaller piping tip. Voilà! The second batch came out beautiful.
The good news is that you really don't need that many ingredients. I found the Almond Meal/Flour at the grocery store. You will need a kitchen scale, a sifter or mesh strainer, and some parchment paper. I used Reynold's parchment paper I bought at the grocery store. You have to sift the flour, powdered sugar and crushed candy hearts in order to have a smooth batter and nice flat macarons. I Used Brach's conversation hearts candy. They have fruity flavors, not as chalky as the Necco ones.
It's best if you sift twice. I know it seems like a lot of work, but it is worth it in the end. For the conversation hearts I chopped them up a bit with a knife before putting them in my food processor to turn them into powder. The other day I used my Blendtec which also worked well. They need to be a very fine consistency.
If you have a stand mixer, whipping the meringue is easy. If you don't have stiff glossy peaks, just whip it some more. I used egg whites in a carton, so I didn't have to worry about getting yolks in the mix. Look at those "feet", that means it worked.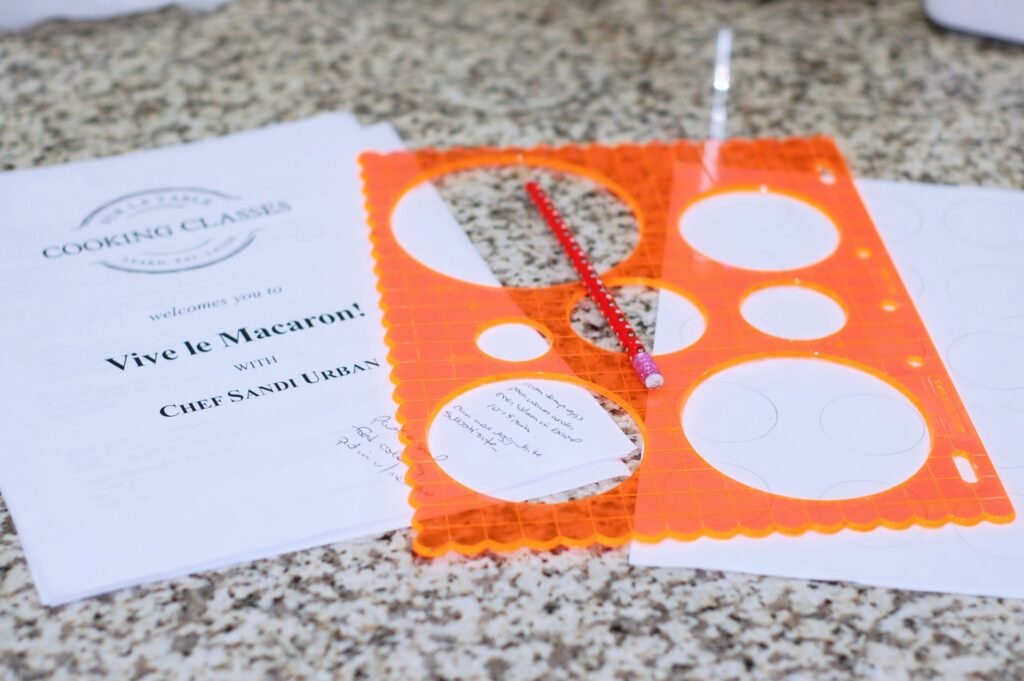 The template for the macarons that I made at Sur la Table were for mini macarons. I wanted someting a bit bigger. I made my own template on a piece of paper using a 1 1/2 inch circle guide. You can make yours on the computer if you want. I think next time I will make my circles a little further apart. They should be atleast a 1/2 inch apart. Other than that my template worked out great. I just slipped it under the parchment paper and piped my macarons. This time for piping tip, I used Ateco # 806. When I make these again, I may even go lower like a #804 or #803.
For the filling, I chose a buttercream. It lent itself better with the candy. The crushed candy gave the buttercream such a pretty pink color that I didn't want to ruin, so when I added the vanilla, I chose to add a clear vanilla that I keep on hand for when I want a pure white frosting. It added just the flavor I need without changing the color of the filling.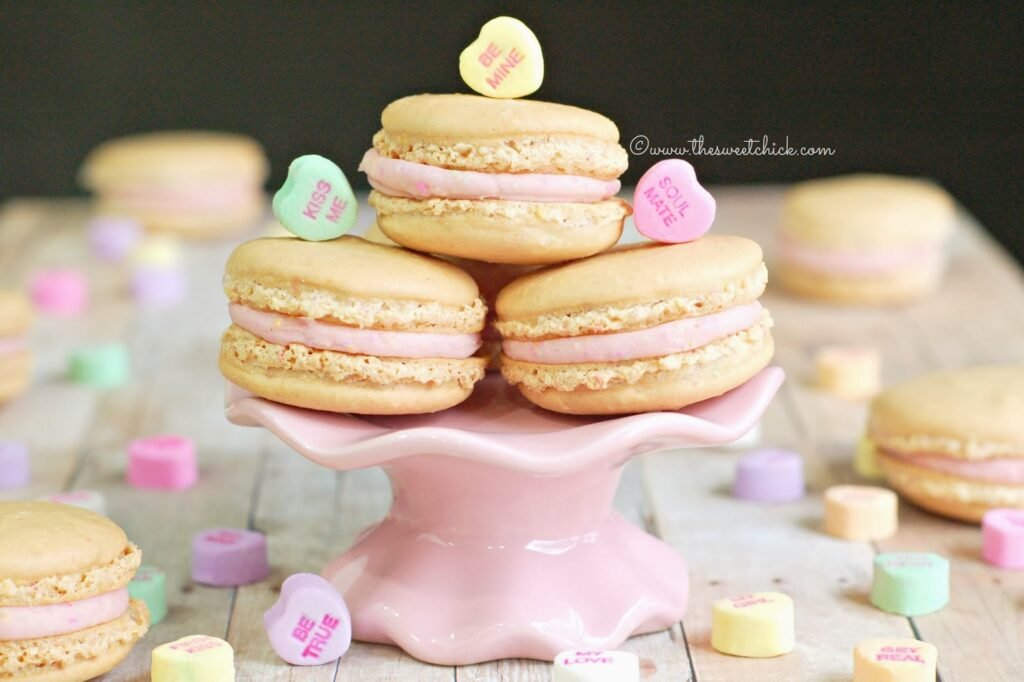 If you like conversation hearts candy, you are going to love these macarons. They taste just like the candy, but in macaron form. How cool is that?
The shell is crispy, the inside is soft, and the filling is just the right amount of sweetness. I am so in love with these. They would make a great gift for someone you love on Valentine's Day.
Conversation Heart Macarons
by The Sweet Chick
Prep Time: 2 1/2 hours
Cook Time: 10-15 minutes
Keywords: bake dessert snack egg whites almond flour conversation heart candy macarons French
Ingredients (33 macarons)
For the macaron
7 oz. powdered sugar, divided
4 oz. almond flour/meal
4 large ( 4 oz.) egg whites, room temperature (I used 4 oz. egg whites in a carton)
3 1/2 oz. granulated sugar
3 tablespoons powdered Brach's conversation heart candy
For the filling
3/4 cup butter (1 1/2 sticks), room temperature
3/4 cup powdered Brach's conversation heart candy
1 1/2 cup powdered sugar
1 1/2 teaspoon clear vanilla extract
2-3 teaspoons milk
Instructions
For the macarons
Prepare circle templates and line baking sheets with parchment paper, placing template under parchment.
In a food processor, pulse 1/3 of the powdered sugar and all the almond flour to form a fine powder. Then sift sugar mixture 2 times. Sift remaining powdered sugar 2 times also. In a large bowl combine almond flour mixture and remaining powdered sugar.
Chop or break up the candy hearts and then place in food processor. Grind until they become a fine powder. Sift candy powder 2 times. Add candy to powdered sugar mixture and mix well. Set aside.
Add egg whites to stand mixer bowl with whisk attachment. Whisk whites on medium speed until foamy. Then gradually add the granulated sugar. Once all sugar is added, scrape down the sides of the bowl. Increase mixer speed to high and whisking until stiff, firm, glossy peaks form.
Next sift the powdered sugar mixture 1/3 at a time over the egg white mixture and carefully fold using a large silicone spatula until mixture is smooth and shiny. Repeat process for the remaining 2/3 of the powdered sugar mixture.
Place the macaron mixture into a piping bag with a round tip ( I used Ateco # 806). With piping tip 1/2 inch above the template , pipe 1 1/2 inch circles onto parchment paper lined baking sheets. Once finished gently tap baking sheet on your work surface to release and air bubbles and help form the "feet" of the macarons.
Let macarons stand at room temperature for 30 minutes. (Have patience.)
During this time, preheat oven to 375°F. Macarons will be ready to bake when they no longer stick to your finger when lightly touched. (Do not forget to remove the template paper before baking.)
When ready, bake the macarons at 375°F for 10-15 minutes. (Mine took 13 minutes.) Rotate baking sheets halfway through to promote consistent baking. Macarons will be ready when they are crisp and firm.
Remove from oven and let cool for 2-3 minutes. Then carefully remove the macarons from parchment paper and place on a wire rack to cool completely.
For the filling
In a stand mixer, cream together the butter and powdered candy. Then slowly add the powdered sugar and mix on low until fully combined.
Next add the vanilla extract and 2-3 teaspoons of milk. You want the consistency to be smooth and spreadable. Mix well.
Place filling in a piping bag with round tip (I used Ateco #804).
Pipe filling onto one macaron and then sandwich it together with another one. Repeat for remaining macarons.
But before you go pop one in your mouth, I ask that you have just a little more patience. Macarons should be placed in the fridge for 24 hours before eating. This is how they mature and reach their full flavor. You can eat one right away, but when you eat one the next day it will be so much better. I know it will drive you crazy, but it will be worth all your hard work.
Notes
I weighed the powdered candy after sifting because it tended to have a lot of bits that didn't go through the sifter.
Macarons can be kept sealed in an airtight container up to 1 week in the fridge.
Macaron recipe adapted from Sur La Table Mango Macarons
This recipe may be shared at these fabulous link parties.