This weekend, I gorged on chocolate chip cookies. I mean who wouldn't? Look at these things. Just look at 'em. Seductive, no, served alongside a cool glass of milk?
I totally thought I'd settled the question of world's best chocolate chip cookie recipe for good. But I find I may have to re-open the topic (it's of the utmost importance, you know) and thrown in another contendor.
First, let's figure out if we're in agreement here. Do you like your cookies chewy? And soft? With that characteristic give when you first bite into them? Do you like them bronzed and flat and ripply on top, ready to dunk into cold milk?
That's how I like my chocolate chip cookies. And my long-time standby has been Kim Boyce's whole wheat chocolate chip cookies—yeah, the ones that spread like wildfire in the blogosphere. They're ridiculously good, with the whole wheat flour stealing the show.
But for times when I want a slightly lighter cookie, one that's not quite as… bold let's say, I think I'll be reaching for this recipe.
It's plain old comfort food, albeit comfort food I could eat at any time. It's the classic chocolate chip cookie, no frills, no fancy ingredients, and I'm having a hard time keeping my hands off them.
My solution is usually to shove a bunch in a bag and hand them off to friends, but I find myself oddly protective of these.
In my heart, there's room for two favorites.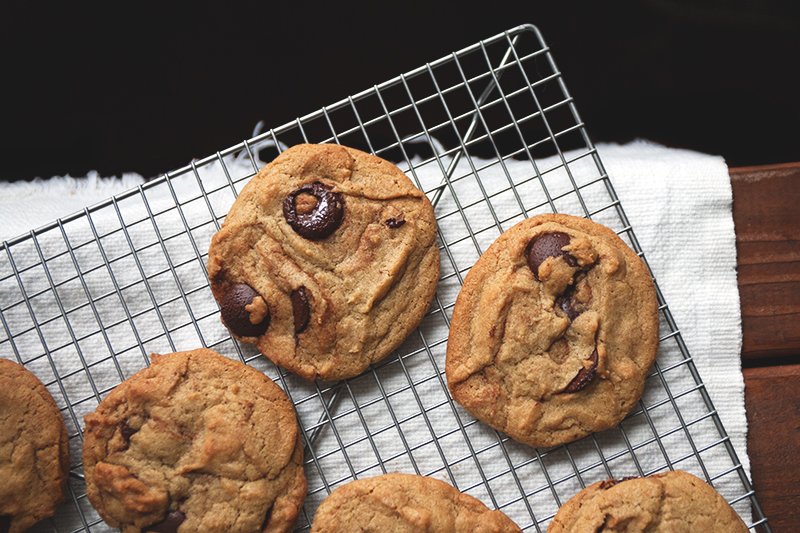 I've had The New Best Recipe sitting on my bookshelf for awhile. Bless those giant, comprehensive compendiums. I put a lot of confidence in America's Test Kitchen for its reliability and rigorous kitchen methods.
In the book, you can read about the entire trial and error process—the countless alterations tried—before a recipe was deemed perfect. It's really informational.
For instance, did you know that "when melted butter is added to a dough, the proteins in the flour immediately grab onto the freed water molecules to form elastic strands of gluten?" I didn't know that.
In the case of these chocolate chip cookies, their focus was on chewiness. Which is why melted butter and an extra egg yolk are called for. And they invented an elegantly simple way of shaping the cookies so they come out with that classic rippled top (instructions in the recipe).
Chocolate Chip Cookies
Recipe from Thick and Chewy Chocolate Chip Cookies in The New Best Recipe
Makes about 18 large cookies (I ended with 14)
Ingredients:
2 cups plus 2 Tbsp all-purpose flour
1/2 tsp baking soda
1/2 tsp salt
12 Tbsp (1-1/2 sticks) unsalted butter, melted and cooled until just warm
1 cup packed brown sugar
1/2 cup granulated sugar
1 large egg, plus 1 large egg yolk
2 tsp vanilla extract
1 to 1-1/2 cups semisweet chocolate chips
Update 8/22/12:I made these with half whole wheat flour and they turned out a success.
Directions:
Line 2 large baking sheets with parchment paper (or bake the cookies in batches like I did). Preheat oven to 325 degrees F.
Whisk together flour, baking soda, and salt in a medium bowl. Set aside.
Mix the butter and sugars until thoroughly blended. Beat in the egg, yolk, and vanilla until combined. Add the dry ingredients and beat at low speed until just combined. Stir in the chips to taste.
Roll a scant 1/4 cup of dough into a ball. Holding onto it with the fingertips of both hands, pull the ball apart into two equal pieces. Rotate both pieces so that the jagged, ripped edge is facing upwards, then push both halves together again with the jagged edges still facing upwards. Place the dough on the baking sheet, spaced about 2-1/2 inches apart.
Bake 15 to 18 minutes, until the cookies are light golden brown. Rotate the baking sheet about halfway through for even baking. Don't overbake! The cookies will harden when cooled and the centers will set.