Happy New Year!!! Another year gone. Where did it go? I would like it back, please. When I was little it took FOREVER to get to the next year, but now as I get older the years seem to be flying by. It's not fair. We need to boycott this madness. Someone needs to invent a machine to slow down time a little. I feel like I didn't even have time to enjoy the past year. Hopefully, this year will be different. Time for a change.
The year did not quite start off the way I expected. I rang in the new year with two sick children and spent the morning of the new year at the clinic with my six year old daughter whom we found out has strep throat. Poor kid. A couple of weeks ago she had pneumonia. I think I may need to put her in a bubble for a few years so she can get healthy. I hate the winter season, it brings on so many viruses. Yuck! Can we boycott viruses too?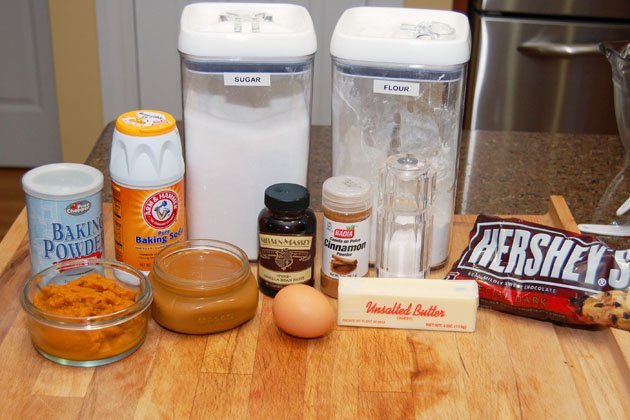 You know what makes everything better?  Cookies!  I made a batch of these for the family.  I used some leftover pumpkin puree and my homemade dulce de leche .  I just adapted my recipe for Pumpkin Soynut Butter Chocolate Chip Cookies.  I did go a little heavier on the dulce de leche, but it was well worth it.
I love how light and fluffy these cookies are. They bake up into these cute little domes of goodness.
Here is to another year full of adventures! (That's me clinking glasses of milk and getting ready to dunk these babies.) Enjoy!
Pumpkin Dulce de Leche Chocolate Chip Cookies
by The Sweet Chick
Prep Time: 15 minutes
Cook Time: 15 minutes
Keywords: bake dessert snack pumpkin dulce de leche dark chocolate chips cookie fall winter
Ingredients (40 cookies)
1/2 cup butter
3/4 cup sugar
1 egg, beaten
1 teaspoon vanilla extract
2 3/4 cups all purpose flour
2 teaspoons ground cinnamon
1/4 teaspoon salt
1 teaspoon baking powder
1 teaspoon baking soda
1 cup pumpkin puree
3/4 cup dulce de leche
1 cup dark chocolate chips
Instructions
Preheat oven to 350º F.
In a stand mixer add butter, sugar, egg, and vanilla. Beat on low until well mixed and texture is smooth.
In a separate bowl combine flour, cinnamon, salt, baking powder and baking soda. Stir until all is well blended.
Then slowly add dry mixture to the wet mixture and beat on low until it becomes a dough like consistency.
Then add the pumpkin puree, and dulce de leche and give it a good mixing.
Finally, add the chocolate chips and mix until they are evenly distributed throughout the dough.
Using a spoon or cookie scoop, drop by tablespoon or so onto a greased cookie sheet leaving 2 inches between each dough ball.
Bake for 15 minutes or until the tops are slightly golden. Remove from the oven and wait 5 minutes, then remove from cookie sheet and place on cooling rack until completely cooled.