Maybe it was because I felt like jumping ahead into fall when I picked up a couple pounds of Clapp and Bosc pears at the farmer's market last weekend. Or maybe I found myself suddenly taken by their ladylike curves and freckled complexions. Charming and modest, and so delicately scented, pears are a graceful fruit, are they not?
Of course, once I got home, I realized I had absolutely no idea what to do with them. The thing is, I've never actually liked pears. I've never really even eaten one except for Asian pears which, as I understand, are completely different from all other varieties. My one encounter with a non-Asian pear was in college and it turned me off from eating them ever again. It had been a Bartlett—they were always available in the cafeteria—and its texture was strange and mushy and so different from the crispness and juiciness I was used to.
This recipe has restored my belief in pears. And apparently all I had to do was bake the fruit into a cake as beautiful-tasting as it smells. Also, I think I've found a variety that I like! For all of you who feel the same about pears as me, try a Bosc, which is pleasingly crisp. They're the slender and tall ones the color of… well, autumn.
This cake is moist and tender, so moist and tender that parts of it melt in the mouth. I kind of love it. And I keep cutting off slices, teeny slices sure, but slices nonetheless. (I'm worried that unless some higher power intervenes, I'm going to eat most of it by myself.) And as my first upside-down cake, there was a certain giddiness that overcame me when it plopped out, perfectly.
I see this cake as a precursor for what's to come in the next few months: lots of cinnamon-y ginger-y baked goods greedily consumed piping hot from the oven. And chai tea, and the pleasant crunching of leaves, and the crispness to the air. I am looking forward to the upcoming season.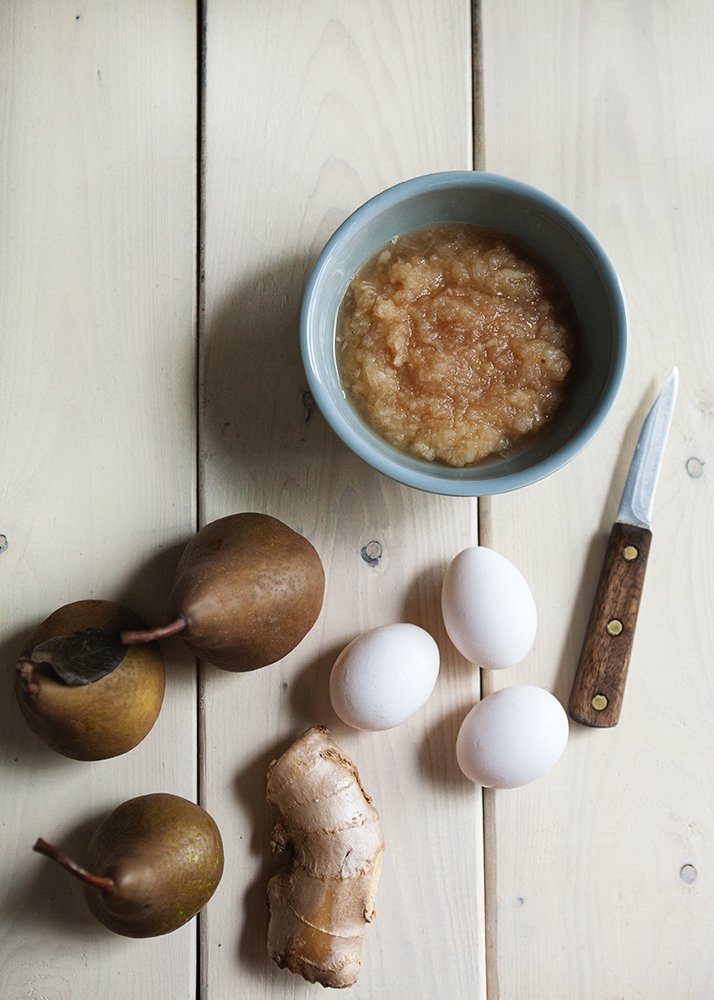 As far as what varieties of pears to use, the recipe recommends Bosc all the way, but I thought the very ripe Clapp pears I used worked really well for the cake batter, mostly because they were so ripe and soft and juicy.
The recipe actually also called for baking the cake in an oven-proof skillet, but I opted for a regular 9″ cake pan and it was spectacular! I also ended up using only about 1-2/3 pounds of pears, I omitted the orange zest, and finally, I made my own crystallized ginger by cooking fresh minced ginger and sugar together for a couple minutes. The process caramelizes the sugar, which tastes wonderful, but hardens quickly, so you either need to mix the stuff into the batter quickly or, like me, pull out your mortar and pestle and grind up the hardened mixture.
Enjoy! I promise it makes a fantastic breakfast as well (if eating sugary baked goods first thing in the morning is your kind of thing, which it is for me!).
UPSIDE-DOWN PEAR CAKE
Adapted from Bi-Rite Market
Makes one 9-inch cake
Ingredients:
6 tablespoons (3/4 stick) unsalted butter
3/4 cup (packed) golden brown sugar
2 Bosc pears, peeled, cored, and thinly sliced
2/3 cup sugar + 1/4 cup for making crystallized ginger
1 1/3 cups all purpose flour
1 1/2 teaspoons ground cinnamon
1 teaspoon baking soda
1/2 teaspoon salt
3 large eggs
1/2 cup vegetable oil
1 teaspoon vanilla extract
1/4 cup fresh ginger, minced
1 T water
1 cup grated peeled pears, about 2 medium (I used Clapp pears)
Directions:
Preheat oven to 350°F. Melt butter and pour evenly into pan. Sprinkle with brown sugar. Arrange pear slices in flower design atop sugar.
Whisk flour, 2/3 cup sugar, cinnamon, baking soda, and salt in medium bowl to blend. Whisk eggs, oil, vanilla and ginger mixture in large bowl to blend. In a small saucepan, combine the ginger, sugar, and water. Turn heat onto medium-low and begin stirring the mixture. It should start bubbling and reducing, and after about 2 minutes, turn the heat off and immediately pour the mixture into the egg mixture. Mix in grated pears. Mix dry ingredients into egg mixture.
Carefully pour batter over pears in pan. Bake cake until tester inserted into center comes out clean, about 40 minutes. Cool cake still in pan on rack 20 minutes (very important! The top of cake needs to set). Run knife around pan to loosen. Place plate on pan over cake. Invert cake onto plate. Serve warm, with vanilla ice cream if it pleases you.