Well, we did it! We got our stubborn little four year old into a pre-school program.  It has been a challenge with him refusing to potty train, but his teacher really wanted him in school and she made it happen.  He wakes up every morning eager to go and doesn't even care about leaving me.  He is a smart little kid, but his stubbornness keeps him from getting things done and being on track with other kids his age.
He is making progress though.  I just have to accept the fact that I look like an incompetent mom that doesn't know how to potty train her child.   Each child is different.  He is nothing like his older sister.  Oh well, on a happier note I made these lovely kid friendly Krispie Fruit Punch Truffles to continue celebrating summer and keep fall at bay.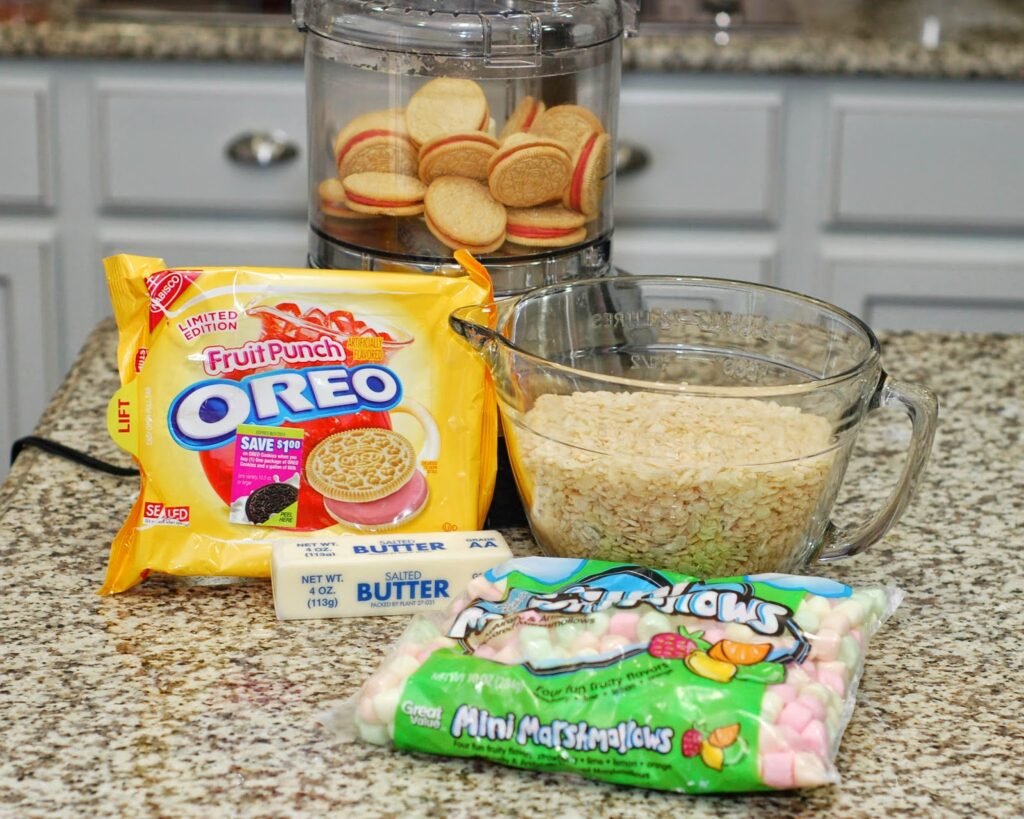 I am not a big fan of fruit punch flavor, but these Fruit Punch Oreos are not bad.  A little too sweet for my taste, but the kids love them (of course).  In keeping with the fruity flavor, I used fruit flavored marshmallows, but you can use regular ones if you like.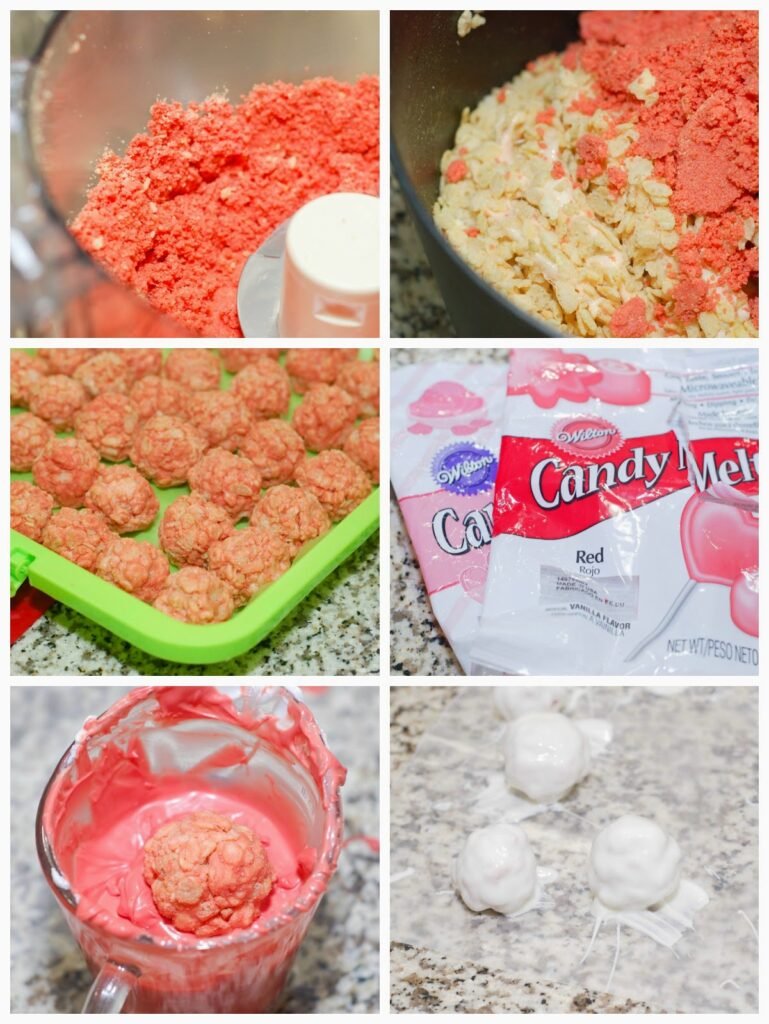 I was originally going to just make regular Rice Krispie Treats, but then I decided to have a little fun.  Before the Krispie mixture set, I rolled it into one inch balls, then dipped them in candy melt and decorated.  For the pink, I used a mix of red and pink candy melt to match the color of the cream in the Fruit Punch Oreos.  For the white, I used vanilla Candiquik candy coating.
You can add more candy melt to the tops and/or sprinkles.  I put aside some of the cookie crumbs to decorate.  I used the Wilton Candy Melt Decorating Tip Set I had purchased to make the Candy Coated Oreo M&M's for my son's birthday.  It works really well and if you need to reheat the candy melt, you just throw the whole thing in the microwave.
Kids will love these candy coated balls with a soft, chewy, fruit punch center.  Plus, they can pitch in and help by rolling all the balls and decorating the tops. I handed my out to some very excited kids at my daughter's bus stop.
Krispie Fruit Punch Truffles
by The Sweet Chick
Prep Time: 30 minutes
Cook Time: 5 minutes
Ingredients (48 truffles)
For the truffles
4 tablespoons butter
1 package (10 oz.) mini fruit flavored marshmallows
1 package 12.2 oz. Fruit Punch Oreos, divided
6 cups Rice Krispie Cereal
For the coating
1 package (16 oz.) Candiquik candy coating, vanilla
1 package (12 oz.) Wilton's Candy melt wafers, red
1 package (12 oz.) Wilton's Candy melt wafers, pink
Optional toppings
cookie crumbs
sprinkles
candy melt drizzle
Instructions
For the truffles
Put Oreos in the food processor and chop/ grind until they are a dirt like consistency. (If you are going to use crumbs as a topping, put some aside now.)
In a large sauce pan, melt butter and marshmallows over low heat. Stir until completely melted.
Remove from heat and add Rice Krispie cereal and chopped Oreos. Mix until all is well incorporated.
Then pour the mixture into a greased pan or a cookie sheet.
Let cool slightly, then roll mixture into one inch balls and place on wax paper to set.
For the coating
After the balls are set, melt candy coating in the microwave as per directions on package. (The Candiquik you can melt in the container provided. For the Wilton's candy melt wafers I use a glass container. I mixed 1/2 of the pink wafers with 1/2 the red wafers to get the color in the picture.)
Dip the Krispie balls into candy coating mixture until all covered. (I use a fork.) Once covered, remove and softly tap until excess candy melt falls off. Then place the balls on wax paper until the candy melt hardens.
For the optional toppings
If you are just adding cookie crumbs or sprinkles, add them before the candy melt hardens.
If you are adding candy melt drizzle, let the first coat harden, then add the drizzle. You can still add sprinkles or cookie crumbs to the drizzle before it hardens.
Keywords: no bake dessert snack Fruit Punch Oreos rice krispies marshmallows candy melt rice krispie treats truffles American summer