Homemade granola is lovely. It tastes fresher and crisper than anything you get in stores, and you get to customize it to your liking. Hate pecans? Use almonds. Need a little boost of fiber? Throw in flax seeds. Love the smell of pumpkin pies? Use pumpkin pie spices.
I think my favorite part of making granola is deciding on a flavor profile. Cardamom, pistachios, and dried figs go well together, chocolate lovers might throw in a medley of chocolate chips. Cinnamon, nutmeg, ground ginger, and allspice are the strict dominion of pumpkin pie, my favorite kind of pie in the world. So a fall-themed, pumpkin pie spice granola it was.
The process of making granola feels very much like foraging. I had to source a lot of ingredients for this one so that my pantry is now full of bulk bin baggies with trace amounts of their original contents. Into a bowl went heaps of rolled oats, sliced almonds, shiny green pumpkin seeds. Snow-white coconut flakes followed, and flax seeds, and on and on I mixed. Each new ingredient added dimension, another flavor that interacted with all the others just so. And the olive oil? The magical olive oil? I assure you, it will become necessary for your enjoyment of granola. Really.
Finally, the pumpkin pie spices are swallowed up by the mixing bowl. The amount seemed so insubstantial. And yet, when the granola baked, its intoxicating aroma spread to the far reaches of the apartment. We breathed it in and basked in the assurance that the holidays will soon be upon us. We thought with a chill about how quickly time has passed, how it seemed like just yesterday when we moved in. (Gosh, is this blog really only four months old?)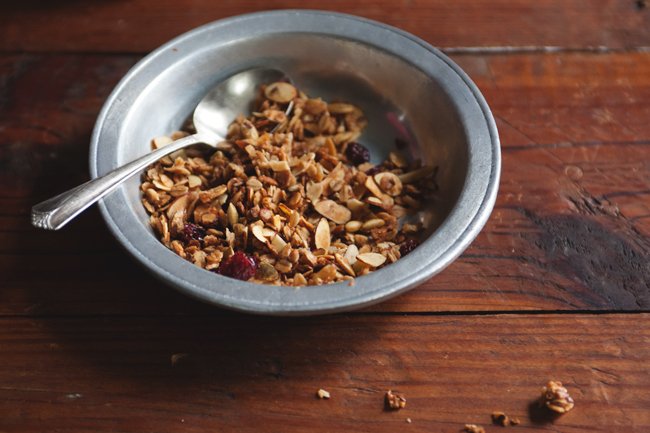 I like granola best with a long pour of whole milk and a steaming mug of coffee, black, on the side. It's a breakfast that incentivizes me to leave my warm bed, start the water boiling for the french press. I reach for the milk, a big bowl, and a large spoon. It has to be large. You'll want it to be large too.
But if you were to feel a sudden afternoon craving for something sweet, this granola would make a fine snack. Just plain. Maybe in a Zip-loc bag with its wide opening, the better for grabbing large handfuls. I don't see why not.
PUMPKIN PIE SPICE GRANOLA
Adapted from Melissa Clark for The New York Times
Makes about 9 cups
Ingredients:
3 cups old-fashioned rolled oats
1-1/2 cups raw sliced almonds
1 cup pumpkin seeds
1 cup sweetened coconut flakes
1/4 cup flax seeds
3/4 cup pure maple syrup
1/2 cup extra virgin olive oil
1/3 cup light brown sugar, packed
1 tsp salt
1/2 tsp cinnamon
1/4 tsp nutmeg
1/4 tsp ground ginger
1/8 tsp allspice
3/4 cup dried cranberries
Directions:
Preheat oven to 300 degrees. In a large bowl, combine oats, almonds, pumpkin seeds, coconut flakes, flax seeds, maple syrup, olive oil, brown sugar, salt, cinnamon, nutmeg, ginger, and allspice.
Spread mixture on a rimmed baking sheet in an even layer and bake for 45 minutes, stirring every 10 minutes, until golden brown and well toasted.
Transfer granola to a large bowl and add cranberries, tossing to combine.