It's Maple Syrup time in New England right now. This is one of my favorite times of the year, so I was inspired to make a special treat. I have used my dad's maple syrup in different desserts and dishes this past year, but never in a Rice Krispie Treat. Let me tell you, they sure were a treat and they were gone fast when I brought them to a party at the sugar house.
Since my dad makes his own maple syrup, my kids get to experience the whole process from start to finish. First my dad goes around and taps all the maple trees. That means drilling a hole and inserting a tap. Then he hangs all the buckets to collect the maple water. He even taught my daughter how to drink maple water straight from the tap. It has a slightly sweet taste. Here she is a few years ago.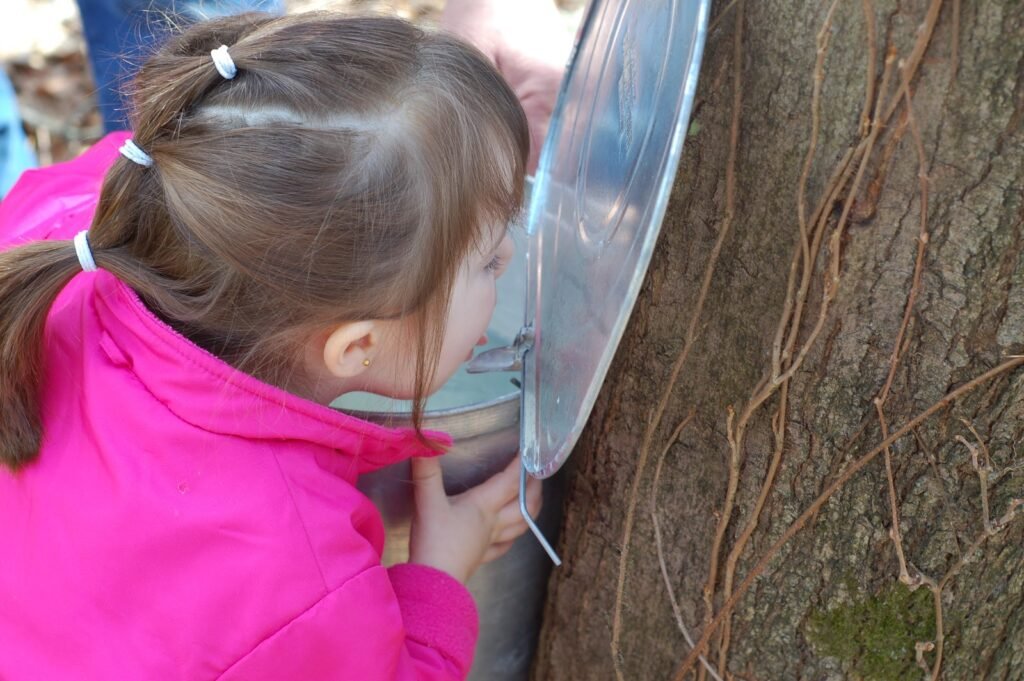 After the water is collected, comes the real fun. We take the water to the sugar house and place it in a big boiler to boil the water down to its syrup form. The syrup is a beautiful golden color. And the smell in the sugar house is amazing. The syrup is then canned and stored, ready to be used for crepes, desserts, whatever you wish. There is nothing like real maple syrup.
Maple Chocolate Chip Rice Krispie Treats
by The Sweet Chick
Prep Time: 15-20 min.
Cook Time: 5-10 min.
Keywords: no bake rice krispies maple syrup chocolate chips
Ingredients (about 12 servings)
3 tbsp butter or margarine
1pkg (10.5 oz.) mini marshmallows
1/4 cup maple syrup
6 cups Rice Krispies cereal
6 oz. dark or semi-sweet chocolate chips
1 bar (4 oz) Ghiradelli white chocolate
Instructions
In a large sauce pan, melt butter and marshmallows over low heat. Stir until completely melted.
Remove from heat. Add maple syrup and stir until all incorporated.
Add chocolate chips and carefully blend into the Rice Krispies mixture. Some of the chocolate may melt.
Pour the mixture into a greased 9 x 13 pan or a cookie sheet and spread it evenly with a piece of waxed paper.
Place in fridge to cool.
When cooled, melt white chocolate bar per directions on package and place in a piping bag or Ziplock bag with tip snipped off. Drizzle the melted chocolate in diagonal pattern across the Rice Krispie treats.
Place the treats back in the fridge to cool.
These treats are so light and with just of hint of sweet that you don't realize you have eaten the whole batch till it's too late.  And you still don't feel guilty afterwards.  Of course, the other people around you may be a little upset.  But hey that just means you will have to whip up another batch.