What kind of cake do you bake for a friend who doesn't like cake? Or dessert for that matter? She's a girl (aww, woman now!) with peculiar tastes. She'll buy half a watermelon and a pack of deli meat for dinner, and eat it all with generous scoops of chili garlic sauce. She hates eating fruit in any form except raw. She doesn't like her veggies. She used to buy a stick of salami everyday after school.
Her one weakness is coffee ice cream, which I took advantage of. Or tried to, rather. I had lofty plans. I was going to make a coffee ice cream cake, with six alternating layers of brownie in between. But then I failed, TWICE, at making the ice cream. So I plowed forward instead with this chocolate coffee bundt cake, courtesy of Big Sur Bakery, via Miss Joy. And I decided to freeze the ice cream anyway—it was a Jeni's Splendid recipe, and looked absolutely amazing on Megan's blog. It doesn't taste quite right, more toffee-flavored than coffee-flavored, but maybe people will believe me if I tell them it's toffee ice cream?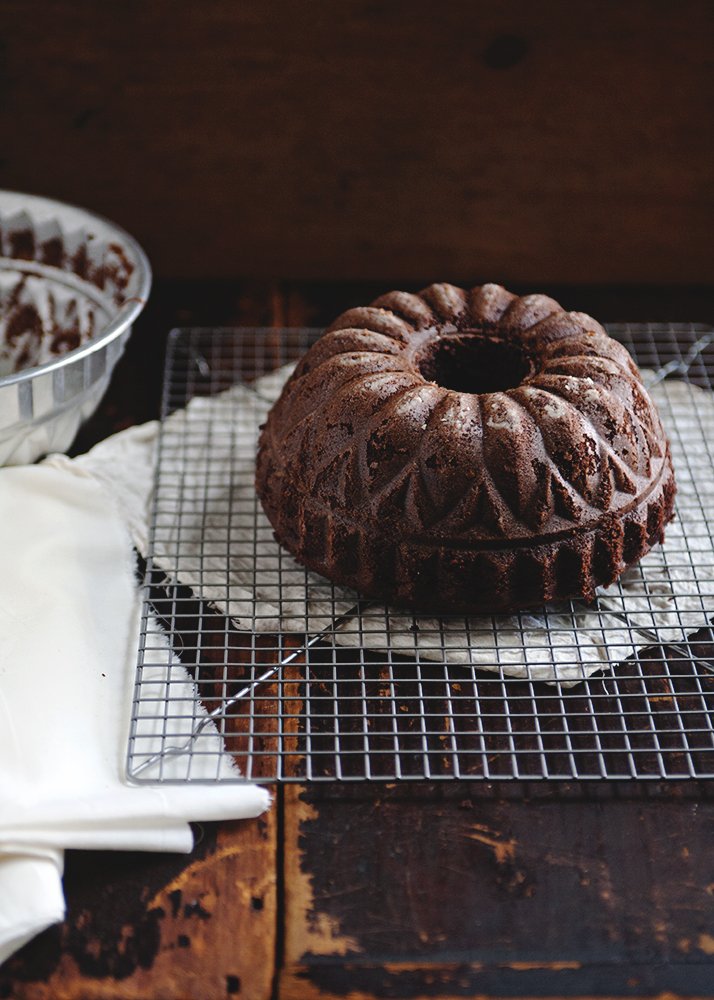 Anyway, you'll notice there are no pictures of cake slices. I couldn't cut it open; I mean, wouldn't that be wrong? A violation of some basic human right to receive an intact cake on one's birthday? Chris asked if there was any way to cut a slice and weld the piece back in—what misconceptions there exist about baking—but I'm not aware of this being possible. (Is it possible?)
So, a happy happy birthday to one of my best friends in the world! She turns 26 today, and I've officially known her for half my life. Whew! Although by the time you read this, her birthday will have passed. Now off to celebrate. A cake report to follow.
The next day: Good cake, great ice cream, and perfect company! I won't post the ice cream recipe for the reason mentioned above, but the cake, now the cake, is one I should spread the word about.
CHOCOLATE COFFEE BUNDT CAKE
Recipe from Big Sur Bakery via Joy the Baker
Makes one 10-inch bundt cake
Ingredients:
1-1/4 cups plus 1 Tbsp brewed coffee
3/4 cup Dutch process cocoa powder (Note: I used regular)
2-1/4 cups sugar
1-1/4 tsp kosher salt
2-1/2 tsp baking soda
2 whole eggs
1 egg yolk
1-1/4 cups plus 1 Tbsp buttermilk
1 cup plus 2 Tbsp canola oil
1-1/2 tsp vanilla extract
2-1/2 cups, plus 2 Tbsp all-purpose flour, sifted
Directions:
Place an oven rack in the center of the oven and preheat to 350 degrees F.
Well grease and flour a 10-inch bundt pan and set aside (Note: I used a 9-inch Bundt pan and there was definitely too much batter. Go with the 10″).
Put brewed coffee and cocoa powder in a small saucepan and bring to a boil, whisking frequently. Remove from the heat and let come to room temperature.
In the bowl of a stand mixer fit with a whisk attachment, mix together sugar, salt, baking soda, eggs and egg yolk on low speed for about 1 minute. Add the buttermilk, oil and vanilla extract and mix on low again for another minute. Add the flour and mix on medium speed for 2 minutes. Add the cooled cocoa mixture and mix on medium speed for 3 minutes. The batter will be very loose.
Pour into the prepared cake pan and bake for 1 hour, or until a cake tester inserted in the cake comes out clean (Note: I baked it for 70 minutes). Let the cake cool completely in the pan and then invert onto a cooling rack. Decorate with powdered sugar and serve with ice cream.