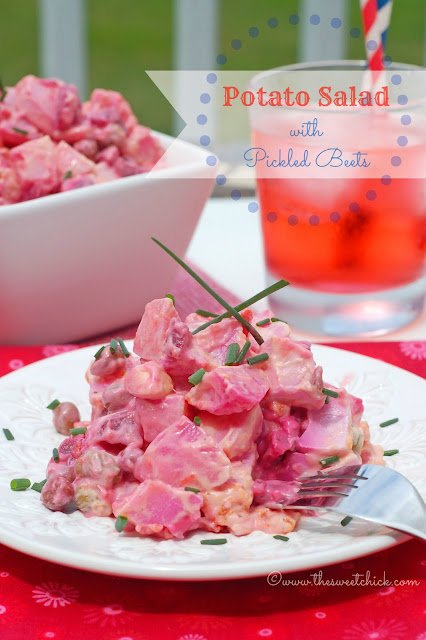 Summer time means picnics and picnics mean potato salad! Well, at least to me they do. I love potato salad, but it has to be homemade. The store bought ones are either too salty or have too much mayonnaise. My potato salad has to be just right. This is the one that my sister-in-law makes and so far it is my favorite. She uses pickled beets to add flavor. The pickled beets give it a sweet, but tangy flavor.
The ingredients are pretty basic. Nothing fancy here. I used red potatoes, but you can use any potato you like. I have made it before with chopped onions as well, but no everyone likes raw onions in their salad, so I stick to the basic recipe. Usually I just throw everything together and wing it, but this time I measured the ingredients out so you can follow along. Just remember not to go too crazy on the salt and pepper. Even though the salad may not have it's full flavor right after you make it, once you put it in the fridge and let it sit, the flavors will really pop. You can always add more salt or pepper later.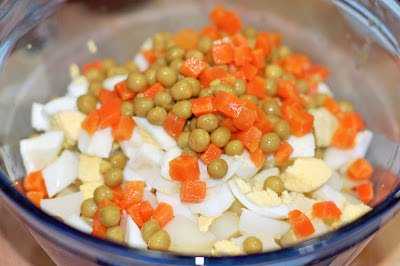 I chop my potatoes before boiling them because they retain there shape better. I don't like a mushy potato salad. Yes, I am really picky about my potato salad.
I really like the taste of pickled beets. I just eat them straight out of the jar. There are a little messy, but worth the flavor.
Really, all you are doing is putting everything in a bowl and mixing. Simple and fast. You will need to refrigerate this for at least an hour to get all the flavors to come together. Overnight is even better.
I was only making a small batch for myself, so I used an 8″ x 8″ Pyrex dish. If you are going to make this for a crowd, then double the recipe and use a 9″ x 13″ dish.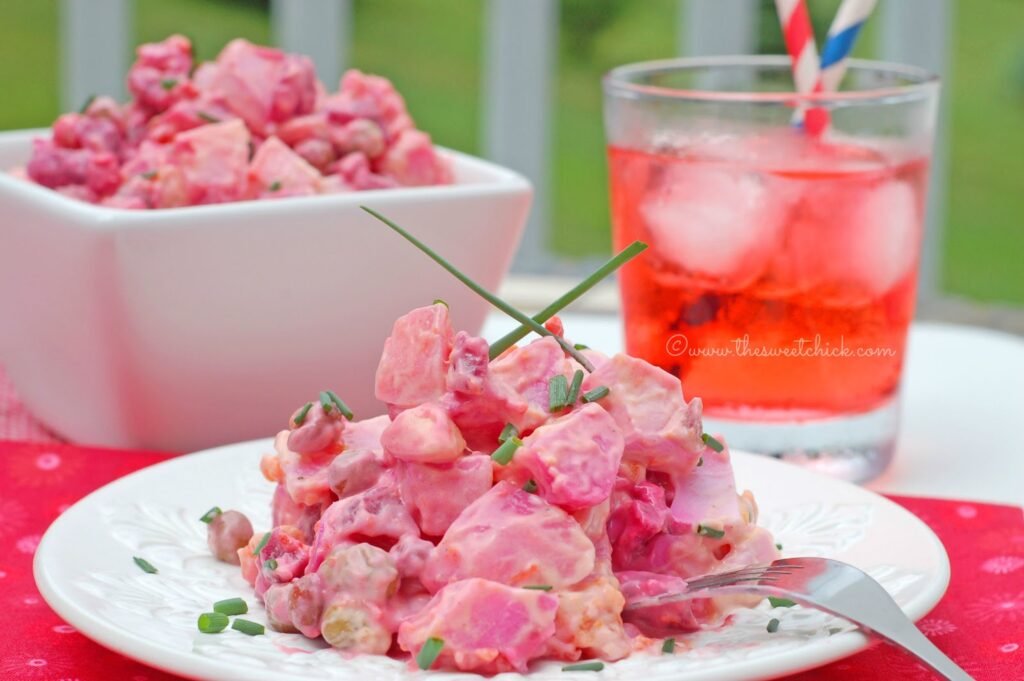 I like how the pickled beet juice gives the salad a pink color and added tangy flavor. You can top it with some fresh parsley or chives. I can't get enough of this salad. I usually eat more than one serving. I try to use light mayonnaise so I don't feel so guilty.
Potato Salad with Pickled Beets
by The Sweet Chick
Prep Time: 15 minutes
Keywords: no bake salad side potatoes pickled beets peas and carrots hard boiled eggs July 4th American summer
Ingredients (4-6 servings)
3 cups cubed potatoes, cooked and cooled
3 hard boiled eggs. cooled and chopped
3/4 cups canned peas and carrots, drained
3/4 cups chopped pickled beets, drained
1/2 cup mayonnaise
1 tablespoon pickled beet juice
1/4 teaspoon salt
1/8 teaspoon pepper
Instructions
In a large bowl add potatoes, eggs, carrots, peas, and pickled beets.
Add mayonnaise and mix well.
Then add beet juice, salt and pepper and mix until fully incorporated.
Next transfer mixture to an 8 " x 8″ dish , cover and place in fridge.
Refrigerate at least 1 hour prior to serving or overnight.
Top with chopped fresh parsley or chives if desired and serve as a side to your favorite summer dish!