All right, just one last bourbon recipe for Father's Day.  These Bourbon Bacon Scones are not only filled with bourbon whiskey and real bacon, but they are also slathered with a maple glaze and drizzled with chocolate.  They are not as boozy as my Biscoff Bourbon Bacon Cookies or my Bourbon Bacon Chocolate Fudge , but they are just as tasty and perfect for a Father's Day breakfast or brunch. 

There's nothing wrong with a little bit of booze in your breakfast.  The bourbon just enhances the other flavors.  I based these off my Maple Bacon Scones I made a while back.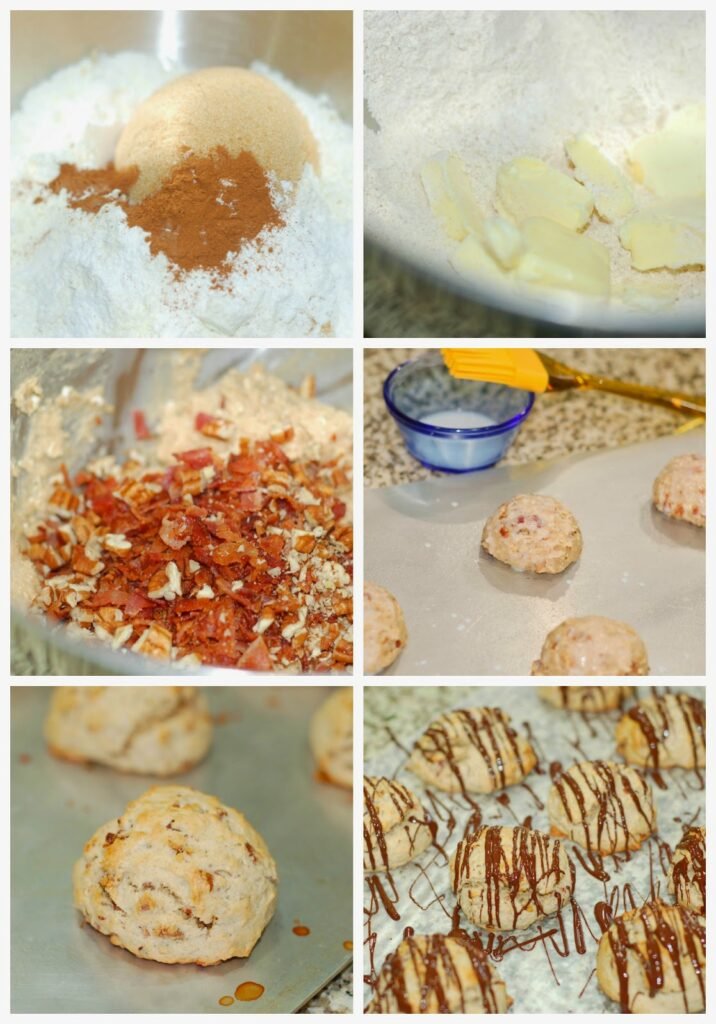 I never get tired of making scones.  They just come together so easy.  And I don't bother to make them into triangles anymore, I just use a large cookie scoop to make the process easier. And I totally forgot to add the glaze before I drizzled them with chocolate, so I ended up brushing on the glaze afterwards and you know, it still worked.
I love how these are soft, but full of bacon and pecan chunks.  The chocolate, maple, bourbon, and bacon flavors really work together.  I need to make another batch for Father's Day breakfast.  We haven't made any plans yet, we may just stay home and relax that day.  What are you doing for Father's Day?
Bourbon Bacon Scones
by The Sweet Chick
Prep Time: 10-15 minutes
Cook Time: 13 minutes
Keywords: bake breakfast snack bacon bourbon whiskey pecans quick oats Father's Day scones American fall spring winter
Ingredients (11 scones)
For the scones
2 cups all purpose flour
1/2 cup brown sugar
1 teaspoon ground cinnamon
2 teaspoons baking powder
6 tablespoons cold butter
1/2 cup milk (plus 1-2 tablespoons to brush on top)
1 egg, beaten
2 tablespoons bourbon whiskey
1/2 cup quick oats
8 strips cooked bacon, chopped or crumbled
1/2 cup chopped pecans
For the glaze
1 cup powdered sugar
2-3 tablespoons milk
1-2 teaspoons maple essence/extract
For the chocolate drizzle
3/4 cup chocolate baking chips (milk, semi-sweet, or dark)
Instructions
For the scones
Preheat oven to 425° F.
In a stand mixer, mix together the flour, sugar, cinnamon, and baking powder.
Cut up butter and add to flour mixture, mixing on low speed for 1 minute.
In a small bowl mix egg and milk until blended and add to the flour mixture along with the bourbon.
Then add the oats, bacon, and pecans, and mix on low speed until fully incorporated.
With a large scoop, place dough onto a greased cookie sheet. Do not flatten.
Brush the tops and sides of each scone with milk before placing in the oven.
Bake for 13 minutes or until toothpick inserted in middle comes out clean.
Remove from oven and place scones on cooling rack to cool completely.
For the glaze
In a small bowl whisk together powdered sugar, milk, and maple essence/extract until smooth.
Place scones on a wax paper.
Using a brush, cover the scones with as much or as little glaze as you prefer.
Let glaze dry before drizzling with chocolate.
For the chocolate drizzle
Melt the chocolate according to package instructions. (I used Ghirardelli 60% Bittersweet Chocolate Chips, so I was able to melt them in the microwave. Some chocolate you may need to melt in a glass bowl over boiling water.)
Then using a fork or Ziplock bag with tip cut off, drizzle each scone with chocolate.
Allow the chocolate to set. You can place them in the fridge to set the chocolate quicker, but let them come back to room temperature before eating.
Enjoy!