There is currently a blizzard coming our way. Looks like we may be stuck in the house for awhile. I hope we don't lose power. That would not be fun at all. But something that is fun are these Cinnamon Raisin Rice Krispie Treats. If you like cinnamon and raisin, then you are going to love these.
I found these Jet-Puffed Cinnamon Bun marshmallows at Target and thought they would be great. The cinnamon flavor in the marshmallows is very subtle, so I added ground cinnamon also.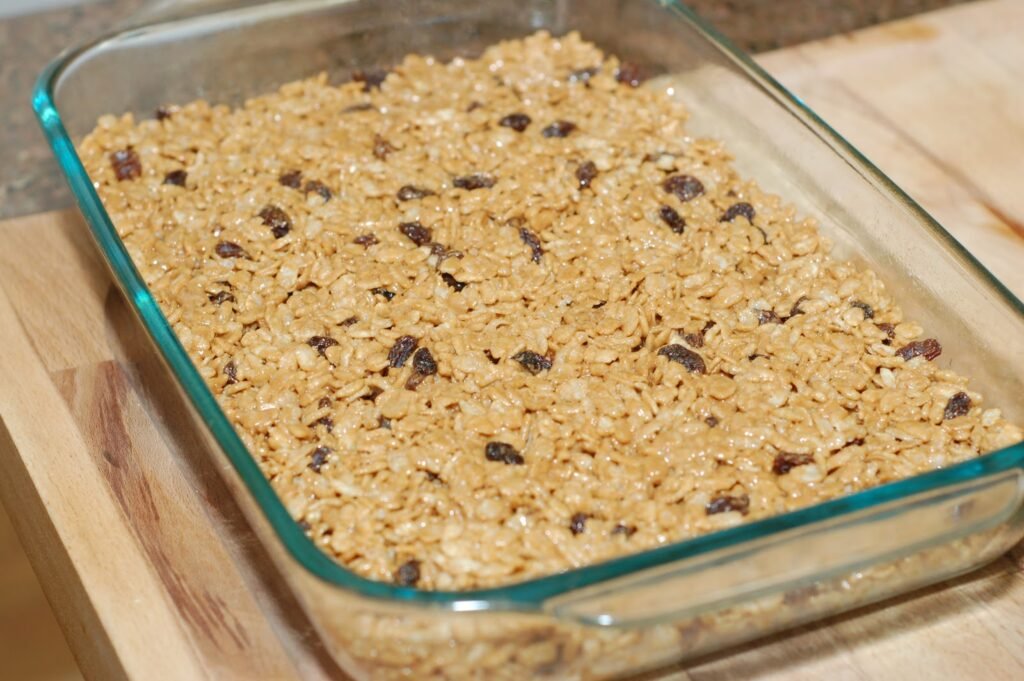 You can leave them plain like this or add a glaze like I did. I even added a sprinkling of cinnamon sugar, because I just can't get enough of cinnamon.
Just look at those beautiful chunks of raisins surrounded by all those cinnamon goodness and krispie crunchiness.
For all of you in the path of Blizzard Charlotte/Storm Nemo, stay cozy and warm in your homes and try to stay off the streets. Be safe!
Cinnamon Raisin Rice Krispie Treats
by The Sweet Chick
Prep Time: 10 minutes
Cook Time: 5 minutes
Keywords: no bake snack gluten-free cinnamon raisins rice krispies marshmallows bars rice krispie treats American
Ingredients (24 bars)
For the treats
4 tablespoons butter
5 cups Jet-Puffed Cinnamon Bun marshmallows
1/2 teaspoon ground cinnamon
1 teaspoon vanilla extract
6 cups Rice Krispie Cereal
For the glaze
2 cups powdered sugar
4 tablespoons milk
2 teaspoons Crisco vegetable shortening
For the cinnamon sugar
1/4 cup brown sugar
1/2 teaspoon cinnamon
Instructions
For the treats
In a large sauce pan, melt butter and marshmallows over low heat. Stir until completely melted.
Remove from heat and add cinnamon and vanilla. Stir until completely mixed.
Then add the Rice Krispie cereal and the raisins. Mix until all is well incorporated.
Then pour the mixture into a greased 9 x 13 pan or a cookie sheet and spread it evenly with a piece of waxed paper.
Place in fridge to cool and set.
For the glaze
In a small bowl mix the sugar, milk and crisco until smooth.
Pour over the treats and spread evenly with a spatula.
Before the glaze hardens, sprinkle the cinnamon sugar on top.
For the cinnamon sugar
Mix together the brown sugar and cinnamon until well blended.
Then sprinkle over the treats. Put as little as or as much as you desire.
Once the glaze sets, cut into squares and eat!