Someone told me once that kale is the healthiest food on the planet. It's been known to lower cholesterol, the risk of cancer, and inflammation, it's chockful of vitamins I can't even begin to pronounce, and it cleanses the body from toxins during both phases of detoxification. Pretty amazing huh?
Personally, I think it resembles the skin of a dinosaur. Don't you love the texture of kale? With all its folds and wrinkles, it's not exactly coarse, but it's tough, hardy, but soft to the touch. More importantly, I love its color. Have you ever noticed how inconstant it is? Under different lights, different preparations, its hue shifts. Sometimes, kale takes after the color of a cactus, cool and calming and quiet. And sometimes, it almost hinges on teal. But I suppose this is the nature of the color green: it's elusive, indefinable.
These are the reasons why I'm so drawn to fruits and vegetables: for the visual and sensory pleasure they provide. I'm quite the hedonist in that way.
Don't even get me started with tomatoes. And please, let's not get started on the subject of taste.
This salad is so vibrant and colorful, the essence of 'salad' in my mind. Except that the kale is lightly brushed with olive oil, sprinkled with salt, and grilled (or toasted in a toaster oven in my case), so it almost feels like you're eating kale chips. Plump juicy tomatoes and ricotta round out the taste, so you get crisp, creamy, and colorful with every bite. You get the idea. This salad engages all the senses.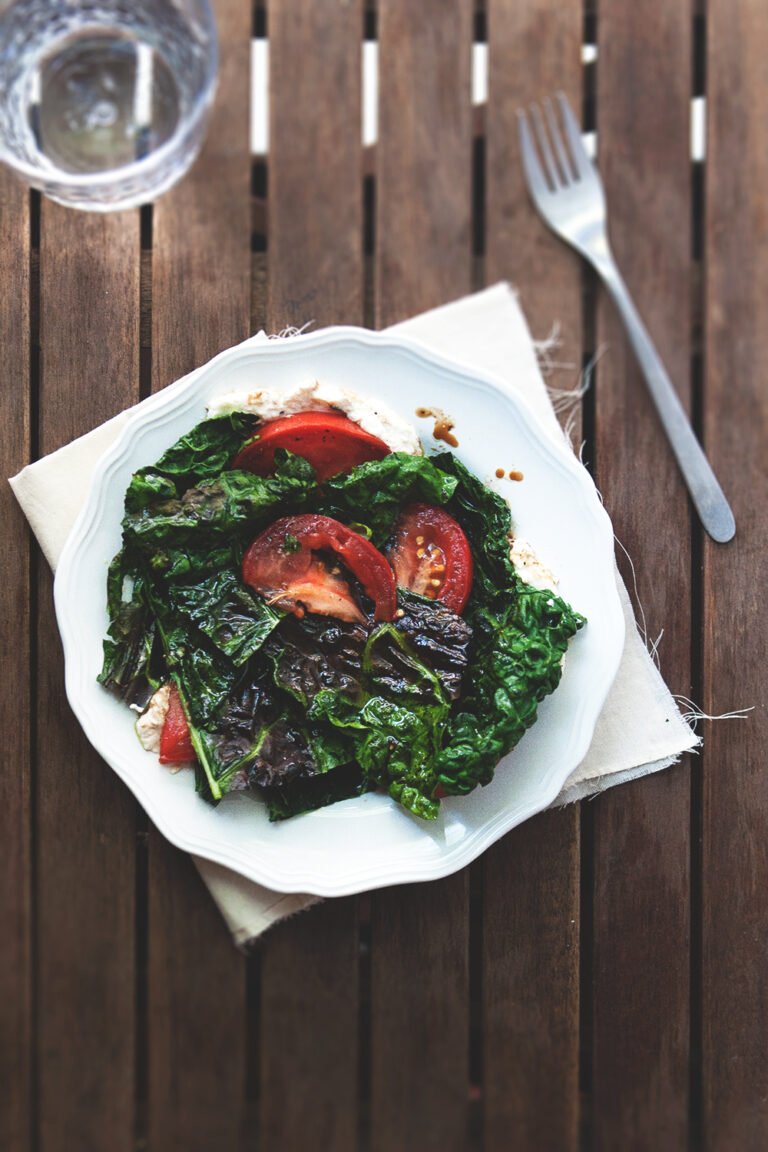 GRILLED KALE WITH RICOTTA AND TOMATOES
Adapted from Bon Appétit
Serves 4
Ingredients:
1 large tomato or 2 medium tomatoes, thinly sliced
8 large leaves or 12 medium leaves kale
3/4 cup ricotta
4 Tbsp olive oil
3 Tbsp balsamic vinegar
2 tsp chopped fresh basil
1 tsp honey
salt and pepper to taste
Directions:
Prepare the dressing. Whisk 3 Tbsp olive oil, balsamic vinegar, basil, honey, and salt and pepper to taste in a bowl. Add tomatoes slices and toss to coat, then set aside.
Wash and dry kale. Brush with remaining tablespoon of olive oil and sprinkle with salt. Place leaves on a grill until both sides are slightly charred. Remove and set aside to cool. (Alternatively, I used a toaster oven on its highest setting to toast the leaves for about 5 minutes and I think this emulated the grill pretty well.) For larger leaves, you may want to cut out the tough stems in the middle and cut each leaf into smaller pieces. Add kale to vinaigrette and toss to coat.
Divide the ricotta among the plates and season with salt and pepper. Divide the kale among the plates and top with more dressing. Top each plate with tomato slices and drizzle the rest of the dressing on top.
And before I forget, happy 4th of July!