Is it still rhubarb season? I'd let a few stalks sit in the bottom drawer for so long that they turned rubbery, so I apologize if the season is over. The good news is, rhubarb can, evidently, be stored indefinitely in the vegetable compartment. As this recipe demonstrates; the glorious vegetable did not suffer in taste one bit.
I think I must've caught the rhubarb bug, because up until this year and Luzia's rhubarb tiramisu, I'd never tasted it in my life. It's another one of those foods Californians don't go wild over because it doesn't grow well in mild climates, at least not as far as I was aware, but Alanna proves otherwise. Her delicious array of rhubarb recipes clearly indicates that rhubarb appreciation is alive and well in the Golden State.
While I intended to make these much sooner, long weekends tend to throw me off schedule. Our Memorial Day weekend turned into more of a staycation, complete with the consumption of both vacation food and popcorn novels (I highly recommend Dark Places by Gillian Flynn—she's actually a really good writer, don't get me wrong) and a sunburn, despite the fact that most of the weekend was drab and rainy. What's up with that anyway? I echo Amy's thoughts—it's extremely important, for my mental health, that the weather behaves the way it's supposed to. It's almost June, dammit! (I'm sitting here angrily typing away in an air-conditioned room. That might explain why I'm freezing.)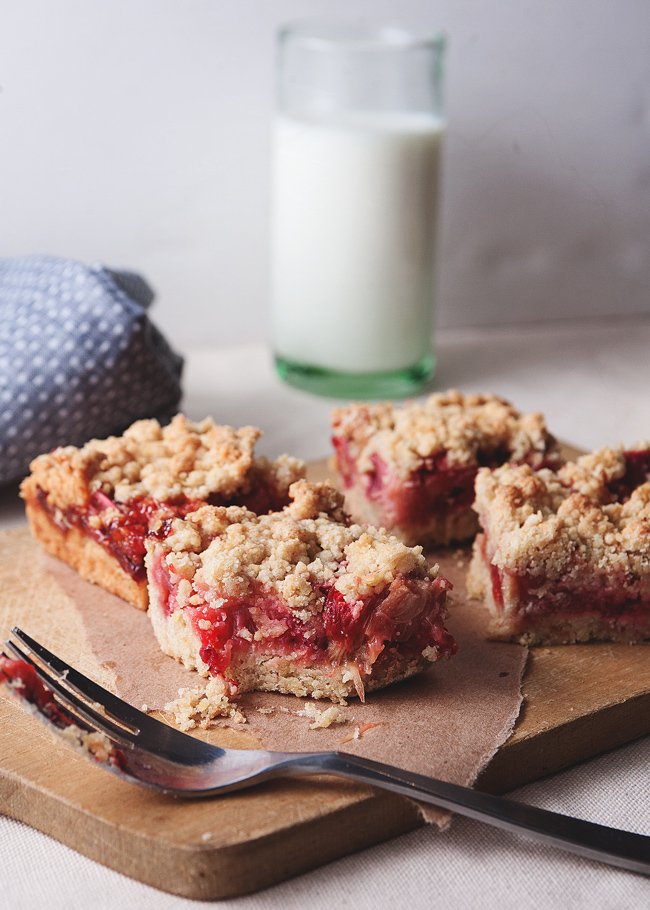 The recipe for these crumb bars has been passed around the web so many times, I'm not sure I can add too much to the collective wisdom. A few thoughts:
– The filling. I adapted the filling to include both strawberries and rhubarb. I loved the idea of adding a hint of ginger, but decided to go the crystallized route so you get the occasional nubbin of the stuff, bright zings, etc. I also added a little vanilla to contrast the rhubarb, and subbed out all the sugar for brown sugar. All in all, delicious! And that's saying a lot because I don't normally like fruit-based desserts.
– The crumb topping to these bars is reminiscent of streusel, so I decided to play that up by substituting some of the all-purpose flour for oat flour and regular sugar for brown. In addition, I second Jess's recommendation of patting down a thicker base. It gives the bars a nice, solid base, a thinner crumb layer, and more room for the gooey filling in the middle to seep into nooks and crannies. Yum.
– I also adapted the entire recipe for a 9″ square pan as opposed to a 9×12″ pan, because do I really want that much good stuff sitting in the kitchen? No.
– Resist the urge to cut into these straight away. Well, feel free to because warm desserts really are the best, but be aware that you'll get scraggly edges, smeared crumbs, and an overall jammy mess. But that's fine. In fact, if you're not planning on impressing anyone, these bars are really good warm from the oven. (See how I just completely reversed my opinion within a few sentences? It's because the opposing sides of my personality—the calm and sensible vs. the twitchy and impatient—can't come to a consensus. Just do what you think is best.)
– Finally, do keep the bars refrigerated once they've cooled. The humidity's starting up in these parts, which causes the dough to lose its structure and become slightly soft. This is more a matter of texture than taste, but no one wants a bar that crumbles in their hands, do they?
STRAWBERRY RHUBARB GINGER CRUMB BARS
Adapted from AllRecipes via Smitten Kitchen and Sweet Amandine
Makes 16 2-inch bars
Ingredients:
3/4 cup oat flour
1-1/2 cups all-purpose flour
1/2 cup sugar
1/4 cup brown sugar
3/4 tsp baking powder
1/4 tsp salt
Zest of half a lemon
3/4 cup (1-1/2 sticks or 6 ounces) cold unsalted butter, cubed
1 large egg
For the filling:
2 cups ½-inch slices of rhubarb
2 cups sliced strawberries
2 Tbsp crystallized ginger
Juice of half a lemon
1 tsp vanilla extract
1/2 cup brown sugar
4 tsp cornstarch
Directions:
Preheat oven to 375 degrees F and butter a 9″ square pan.
In a medium bowl, mix together the flours, sugars, baking powder, and salt. Stir in the lemon zest. Add the butter and egg, and work them into the mixture using your hands, a fork, or a pastry cutter. You want to end up with a crumbly, pebbly dough. Pat 2/3 of the dough into the prepared pan in an even layer.
Make the filling: In a medium bowl, mix the ginger, lemon juice, vanilla extract, brown sugar, and cornstarch. Gently mix in the rhubarb and strawberries.
Spoon the filling in an even layer over the patted-down dough. Sprinkle the remaining dough evenly over the top. Bake for 45 to 50 minutes until the crumb layer is golden-brown. If you'd like the bars to end up neatly-cut, wait for it to cool completely, overnight in the fridge if possible, before slicing it with a sharp knife.