Chris and I went to Montauk for the long weekend, and when we arrived home, we found out that our Internet modem was "out of signal" and the earliest that Time Warner can send a repairman is Friday. FRIDAY. That translates to about 5,000 years by web standards.
The sad fact is, I am hopelessly reliant on the Internet. Without it within finger's reach, a lot of my daily processes have come to a screeching halt. Like blogging. And emailing. Pinning. Uploading. Researching. Entertaining. I mean, what do we not do using the Internet these days?
No matter. Life must go on.
About my weekend, here's my two cents: unless you're prepared to eat at the same two restaurants for six meals in a row, don't go to tourist spots during off season. Montauk was dead. And cold. And, we decided to take the Hampton Jitney, thinking it would be way more economical than renting a car, and ended up spending an exorbitant amount on taxi rides because apparently, everything's not walkable like I'd previously thought.
Again, no matter. It was fun despite everything, and we got our fill of seafood (the seafood bruschetta at Harvest on Fort Pond is REALLY good—highly recommended). But once again, we were hit by the fact that, out here, the seasons are a serious force to contend with. In California, where the weather is about the same year round, there's no reason not to take a break from reality and drive out to some middle-of-nowhere town at any time in the year. And that's exactly what Chris and I would do, often.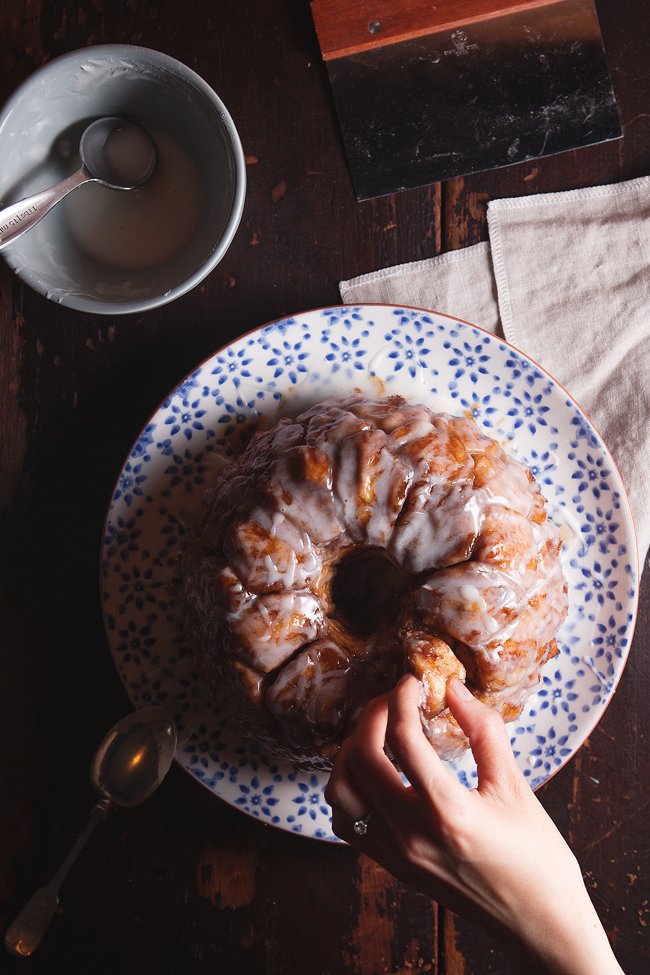 I made this monkey bread in preparation for the trip. Chris perked up like a little boy when I took it out of the oven, although the smells emanating from the kitchen had already set off a Pavlovian response far earlier.
Come to think of it, who wouldn't perk up at the sight of monkey bread? It's part cinnamon roll, part donut hole, and baked in a Bundt pan so it looks pretty to boot. Chris ooh'd and aah'd when I tipped it out of the pan, and hovered nearby as I drizzled the glaze over the top. And when I pulled a piece off to demonstrate how fun it was to eat, he eagerly joined in. I think monkey bread brings the inner child out of all of us.
With the glaze, it's quite decadent, but I liked it for that fact. I don't give myself the opportunity to indulge in sugary breakfasts often, so I'll take whatever excuses I can get.
We enjoyed it the last few mornings with coffee (luckily, we were able to find one cafe in town that was open. Don't know how I would've coped without the precious liquid), plucking pieces off in their perfect bite-sized units.
And outside, the howling wind whipped our little finger of land, heaving snow dust everywhere and freezing the ocean surf.
MONKEY BREAD
Adapted from Cook's Illustrated via Mel's Kitchen Cafe
Fills one 10-inch Bundt pan
Ingredients:
2 Tbsp melted butter, plus softened butter for buttering pan
1 cup milk, warm (about 110 degrees)
1/3 cup water, warm (about 110 degrees)
1/4 cup granulated sugar
2 1/4 tsp instant yeast
3 1/4 cups all-purpose flour, plus extra for work surface
2 tsp salt
Brown sugar coating:
1 cup packed light brown sugar
2 tsp ground cinnamon
8 Tbsp butter (1 stick), melted
Glaze:
1 cup confectioner's sugar
3 Tbsp milk
Directions:
Butter a Bundt pan liberally with softened butter. Set aside.
In a large measuring cup, mix together the melted butter, milk, water, sugar, and yeast. Mix the flour and salt together in a standing mixer fitted with dough hook. Turn the machine to low and slowly add the milk mixture. After the dough comes together, increase the speed to medium and mix until the dough is shiny and smooth, 6 to 7 minutes. If you think the dough is too wet (i.e. having a hard time forming a cohesive mass), add 2 Tbsp flour at a time and mix until the dough comes together (it should still be on the sticky side, just not overly wet). Coat a large bowl with nonstick cooking spray. Place the dough in the bowl and turn to coat lightly with the cooking spray. Cover the bowl with plastic wrap and let the dough rise until doubled, 1-2 hours.
For the sugar coating, while the dough is rising, mix the brown sugar and cinnamon together in a bowl. Place the melted butter in a second bowl or shallow pie plate. Set aside.
To form the bread, gently remove the dough from the bowl and press it into a rough 8-inch square. Using a bench scraper or knife, cut the dough into 64 pieces.
Roll each dough piece into a ball (it doesn't have to be perfect, just get it into a rough ball-shape). Working one at a time, dip the balls in melted butter, allowing excess butter to drip back into the bowl or pie plate. Roll the dipped dough ball in the brown sugar mixture, then layer the balls in the Bundt pan, staggering the seams where the dough balls meet as you build layers.
Cover the Bundt pan tightly with plastic wrap and let the monkey bread rise until puffy, 1-2 hours.
Heat the oven to 350 degrees F. Unwrap the pan and bake until the top is deep brown and caramel begins to bubble around edges, 30 to 35 minutes. Cool the monkey bread in the pan for 5 minutes (any longer and the bread will be too sticky and hard to remove!), then turn out on a platter or large plate and allow to cool slightly, about 10 minutes.
For the glaze, while the bread cools, whisk the confectioner's sugar and milk together in a small bowl until the mixture is smooth. Using a spoon, drizzle the glaze over the warm monkey bread, letting it run over the top and sides of the bread. Serve warm.