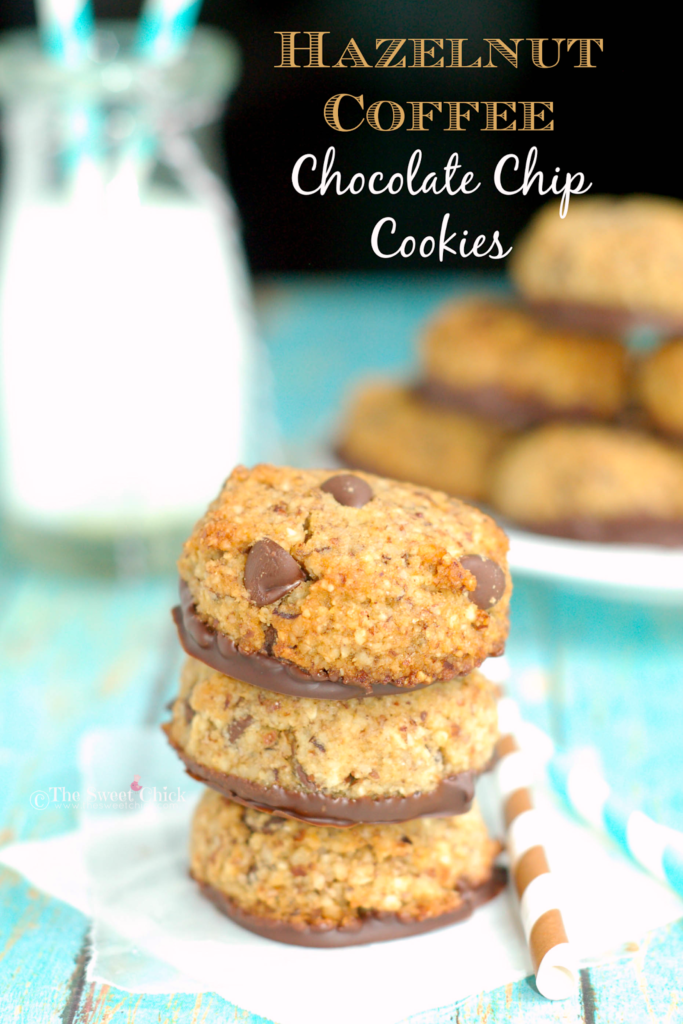 Well, my Mother's Day didn't quite go as planned.  First the little guy caught some type of virus that started as hives all over his body, then led to a really high fever that took all day to get down, followed by head congestion and lethargy.  And he was even kind enough to pass his germs along to his father and I.  I was not in the mood to do anything on Sunday.  Which was fine, because it was my day to relax anyway.  I did receive some lovely gifts from the hubby and kids, which made things better.  Kinda of like these Hazelnut Coffee Chocolate Chip Cookies made me feel when I first bit into one.  They are truly spectacular.  I am a big fan of the hazelnut/chocolate combo.  I hope you are too, because these cookies are so easy to make.
As you can see, there are not too many ingredients.  You can buy the hazelnut flour online or make your own if you have the time and the right tools.  I bought the coffee extract at Walmart.
These cookies do not spread, so you will have to press them down a bit to flatten them out.  I kept them on the thicker side, because I knew I wanted to be able to dip the bottoms in more chocolate.
Trust me, you are going to want to dip them in chocolate.  It makes them taste like those Ferrero Rocher chocolates.  I could eat a whole box of those chocolates. 
Thank goodness this recipe only makes 15 cookies, otherwise I would be in deep trouble.  The cookies came out soft, chewy, and full of chocolate and hazelnut flavor.  They are moist, not dry.  The coffee flavor is in the background.  I may add a little more extract next time. Being that they are made with a nut flour, they are gluten free.  Which is great for those with gluten allergies, but not for those with hazelnut allergies like my husband.  Poor thing, he did try one, but then he got all stuffy.
To my surprise, the biggest fan of these Hazelnut Coffee Cookies was little mister picky himself.  I thought the texture would throw him off.  He's not a fan of certain textures and the texture of these cookies is obviously ground nuts and not powder like flour.  However, when little man asked for a cookie and I offered him his beloved Oreos, he declined and asked for one of mommies cookies.  So much for having them all to myself.  Needless to say, the cookies did not last long in this house.
Hazelnut Coffee Chocolate Chip Cookies
by The Sweet Chick
Prep Time: 10-15 minutes
Cook Time: 12-15 minutes
Keywords: bake snack dessert gluten-free healthy low-carb hazelnut flour chocolate chips cookie American
Ingredients (15 cookies)
For the cookies
1 1/2 cups hazelnut flour/meal
1/4 cup butter, room temperature
1/4 cup light brown sugar
1 egg
1 teaspoon coffee extract
1/4 teaspoon salt
1/4 teaspoon baking soda
1/4 cup semi-sweet chocolate chips
For the dipping
3/4 cup semi-sweet chocolate chips
Instructions
For the cookies
Preheat oven to 375°F
In a stand mixer, cream together the butter and sugar, until smooth.
Then add the egg and extract and mix well on low speed.
Next add the flour, salt and baking soda. Mix on low until completely blended.
Lastly, add the chocolate chips and mix until evenly distributed.
With a cookie scoop, place mounds of dough on a parchment lined cookie sheet about 2 inches apart.
Gently press down on the tops of the mounds to flatten them out a bit.
Place in oven and bake at 375 °F for 12-15 minutes or until golden brown. (Mine took about 12 minutes.)
Remove from oven and let cool a bit on the cookie sheet before moving to cooling rack to cool completely.
For the dipping
Place chocolate chip in a microwave safe container and heat in the microwave in 30 second bursts until completely melted, stirring in between heating.
Dip the bottoms of the cooled cookies in the melted chocolate and place on a sheet of wax paper.
Let the chocolate set at room temperature, or if you are in a hurry, place them in the fridge for a few minutes.
Notes
Cookies can be kept in a airtight container at room temperature for up to 5 days.